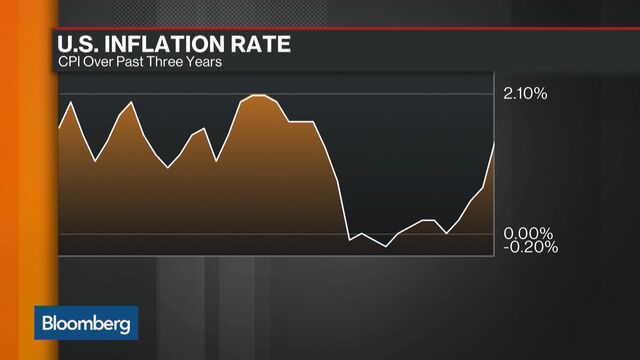 An overwhelming majority of economists are betting this week's Federal Reserve meeting will be something of a snooze, with officials delaying another interest-rate increase amid lackluster U.S. demand and a gloomy outlook for global growth. 
Economists in monthly surveys since December have steadily pulled back on earlier calls for a rate hike at this week's meeting. Four out of the 97 currently polled by Bloomberg, however, are making the case for a surprise quarter-point hike to a target range of 0.5 to 0.75 percent for the benchmark federal funds rate.

The outside call for a hike rests on the idea that the twin policy goals that Fed officials are striving to achieve have been met: 
1. Inflation is showing a pulse
For one reason why the Fed could pull the interest-rate trigger again, look no further than the inflation side of the two mandates Congress established for the central bank. For much of the past year, inflation has been too low, dampened by a plunge in energy prices. But a nascent rebound in oil is giving some economists reason to believe Fed officials will take special notice.  The other goal is maximum employment and by the Fed's own estimate the economy is pretty much there, with the jobless rate at 4.9 percent.
Central bankers will get one more read on price pressures Wednesday morning before the release of their statement and economic projections at 2 p.m. in Washington. Chair Janet Yellen's press conference will follow a half-hour later. The morning's consumer price index report from the Labor Department has the potential to sway fence-sitters toward a rate increase, said Jason Schenker, president and chief economist of Prestige Economics LLC in Austin, Texas.
"Core inflation is becoming an issue, and it was also one of the key drivers behind their last rate hike" in December, Schenker said. "If that CPI report shows core inflation keeps going up, they're not going to want to sit on this till June."
Schenker is calling for a 0.2 percent increase in February's core CPI gauge from the prior month, in line with the median of 79 economists in the Bloomberg survey. If his projection bears out, the year-on-year increase in core inflation will match the highest since June 2012.

"Given the trend in core CPI, if they don't raise rates, to me that would be an economically bearish signal," Schenker said.
2. Domestic, not global, forces prevail
Fed officials at their January meeting nodded to dimmer expectations for global growth, which had roiled financial markets around the world.
Since then conditions have calmed down somewhat, and the turmoil of earlier months seems to have had a limited impact on both the labor market and inflation, two areas that the Fed said it would monitor going forward in line with its dual mandate.
"They said they were going to keep an eye on international markets, and certainly while there was a tremendous amount of volatility at the start of the year, cooler heads have prevailed as we head into the March meeting," Lindsey Piegza, chief economist at Stifel Nicolaus & Co. Inc. in Chicago, said in an interview Monday.
Domestic growth held up in the face of the stock-market slump, save for conjecture that it may have impacted consumer spending in the month of February, when the Standard & Poor's 500 Index fell to an almost two-year low.
And while tepid international growth may remain a sticking point for Fed officials, "that's a very dangerous stance to take, to say that we're now basing domestic monetary policy on what other central banks around the world are doing," said Piegza, who pegged her forecast for an interest-rate increase on the belief that the Fed's own guidance has been met.
3. Time is of the essence
Tracking the speeches and other public comments of Fed officials over the past several weeks, Derek Holt, an economist at Scotiabank in Toronto,  sees a fair conclusion that policy makers have "sufficiently laid out the conditions for a hike now," he said in a March 11 research note. At the same time, Holt affirmed in a separate e-mail that he has a low-to-moderate conviction that they will raise rates, even as he maintains a "very high" conviction that they should. A delay this week would mean the increase would only be pushed "a meeting or two," Holt predicted.
Schenker senses urgency in the Fed decision this week, as his firm projects the next U.S. recession will start as soon as the fourth quarter of this year. He points to a "manufacturing recession" in the U.S., a contraction in business investment, and energy prices that are too slow to rebound as the biggest risks forging another downturn.

A Fed hike now would at least provide some cushion for policy makers to lower rates again in case of a plunge in growth, Schenker said. 
"If they don't do it now, it just gets tougher to do it later," he said.
David Crowe, chief economist at the National Association of Home Builders and the fourth forecaster of an interest-rate increase this month, did not respond to requests for comment.
Before it's here, it's on the Bloomberg Terminal.
LEARN MORE