Style Guide
Five Crewneck Sweaters to Get You Through Spring
From lightweight wool blends to stripes and pops of print, a selection of crewnecks is a wardrobe essential for the in-between seasons.
By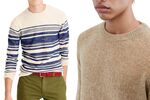 A crewneck sweater is an all-year round essential that every man needs, and it's one that especially shines in the it's-cold-it's-warm-ack-it's-cold-again mess of a season known as spring. Keep to thinner weaves and subtle patterns to use as a layering piece under your suits, or splash-out a little by wearing a pattern to pair with denim on casual days off. Our favorite use: at the beach, during sunset, paired with swimwear—a style you can extend into summer. Here's five high-end, well-fit options to get you there. 
The Graphic Stripe

Choosing a crewneck sweater with variously sized stripes captures the eye (and keeps you from looking like the Hamburglar) better than one whose every line is even. When your style situation calls for a more toned-down look, throw on a leather bomber or windbreaker to further mute the effect. ($255; jcrew.com)
Lightweight Wool Blend 

Selecting the right fabric is key to striking the correct middle ground between too cool and too warm during transitional weather seasons. This "mélange wool" knit from Acne Studios weaves in a bit of Elastane and Nylon for greater stretch and lighter-weight breathability than 100 percent wool offers. ($280, mrporter.com)
Punch of Print  
If you're feeling adventurous, go with a pop of print in a neutral color palette such as this number from Missoni. (Brighter, more traditionally spring-like pastels would make take this piece from "attention getting" to "assault on the senses.") Similar to the striped sweater above, you can throw on a layering piece, like a blazer or spring coat, to tone down the pattern. ($590, matchesfashion.com)  
Pop of Color 

Nothing better welcomes spring than a little pop of color, especially after a winter spent wearing blacks and grays. Avoid super-bright options, lest you wind up with an Easter Egg vibe. The blue in this sweater from Parisan label AMI strikes the right tone: not too navy-dark, not too cobalt-light. In other words, just right. ($260, mrporter.com)
Sporty

Well, yes. This is technically a sweatshirt, but it falls into the same sartorial service as a crewneck sweater. Think of it as a more casual, sporty alternative, especially with Thom Browne's white-striped sleeve detail. ($450, thombrowneny.com)
Moti Ankari is the associate market editor for Bloomberg. Follow him on Twitter @motiankari and Instagram @themetroman, or contact him at mankari@bloomberg.net.
Before it's here, it's on the Bloomberg Terminal.
LEARN MORE