business
Fed to Signal Worst Is Over, Hikes Coming: Decision-Day Guide
By and
Dot plot expected to shift down to three increases this year

Fed may tweak balance of risks, signaling delay in tightening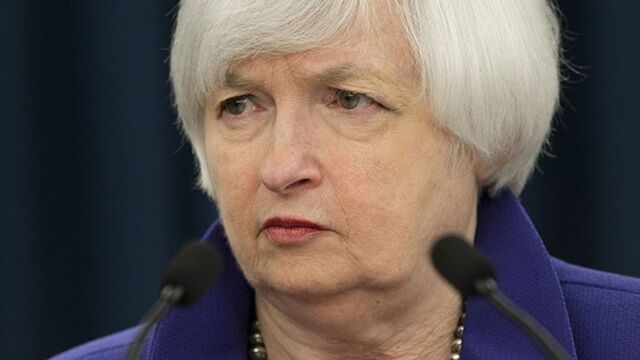 This week, Federal Reserve Chair Janet Yellen and her colleagues have an opportunity to clarify where they stand on the outlook for interest rates. The message will probably be that plans for additional tightening have been postponed, but not for long.
Fed officials are expected to reduce the number of rate hikes they see in 2016 and leave the target range for the federal funds rate unchanged at 0.25 percent to 0.5 percent after a two-day gathering of the Federal Open Market Committee in Washington. Here's what to look for when the FOMC releases its post-meeting statement and updated forecasts at 2 p.m. Wednesday, and in Yellen's 2:30 p.m. press conference:
Fed policy makers will unveil new projections for the appropriate pace of rate increases for the first time since they voted to raise rates in December. Jonathan Wright, an economics professor at Johns Hopkins University in Baltimore, said the so-called "dot plot" will probably show a median forecast for only three increases this year, down from four in December.
Three months ago, market participants doubted that forecast: Futures contracts linked to the fed funds rate implied only two rate increases in 2016. Now, those contracts imply just one is more likely.
Balance of Risks
Downside risks to the economic outlook stemming from overseas "have arguably worsened since January," when the FOMC last met, said Wright, a former Fed economist. "I'd expect the dot plot to now call for three rate hikes. Four rate hikes this year was always a high forecast and so some scaling back would not be surprising."
How the FOMC decides to address the balance of risks to the outlook in its official statement may give an idea of how much confidence officials have in those projections.
When the committee raised rates in December, it described the risks as "balanced," following several statements in which the risks were described as only "nearly balanced."
At the next meeting in January, amid market turmoil and increased concerns over a global growth slowdown, the committee dropped the reference to "balanced" risks from the statement altogether, in favor of language that said it was "closely monitoring global economic and financial developments and is assessing their implications for the labor market and inflation, and for the balance of risks to the outlook."
Forward Guidance
What the committee decides on this part of the statement will be key for markets, said Roberto Perli, a partner at Cornerstone Macro LLC in Washington.
"This can be tricky for the Fed because the market is going to see a downside risk assessment as an indication that rate hikes are off the table for at least six months. Conversely, a balanced risk assessment would be seen as signaling an imminent rate hike," said Perli, a former Fed economist. "Perhaps the least-risky course of action for the Fed may be to leave the current language unchanged."
Along with new rate projections, officials will publish updated forecasts for growth, inflation and unemployment. These will probably look similar to December's forecasts, except for the inflation projections, which will probably be marked up to reflect recent data releases, said Neil Dutta, head of U.S. economics at Renaissance Macro Research LLC in New York.

Prices of consumer goods excluding food and energy rose 1.7 percent in the year through January, exceeding the median FOMC member's December forecast for where the so-called core inflation rate would be at the end of 2016.
Brighter Outlook
In the statement, "they have to acknowledge better economic numbers," Dutta said. "The opening paragraph will have to say something like 'economic growth has picked up since the last FOMC meeting,' and that there has been further absorption of the underutilization of labor-market resources."
U.S. employers added 242,000 jobs in February and the unemployment rate was steady at 4.9 percent, matching the lowest level in eight years.
During her press conference, Yellen will probably reinforce the message that the turbulence of financial markets since the beginning of the year seems to have faded, and that the Fed is back on track to continue raising rates, said Kevin Logan, chief U.S. economist at HSBC Securities USA Inc. in New York.
"She won't emphasize the concern about low inflation," Logan said. "She will make some allusions to financial-market conditions, and how they have, at a minimum, stabilized."
Before it's here, it's on the Bloomberg Terminal.
LEARN MORE