Stocks Fall in Tokyo as Bank of Japan Maintains Record Stimulus
by and
Federal Reserve to release its policy decision on Wednesday

Brokerages swing after MRFs cocooned from negative rates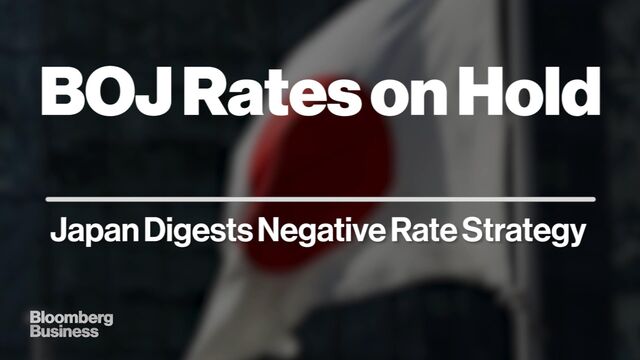 Stocks fell in Tokyo as the Bank of Japan kept its record stimulus unchanged after a two-day monetary policy review.
The Topix index slipped 0.6 percent to 1,372.08 at the close in Tokyo, swinging from a 0.3 percent gain, after closing Monday at a one-month high. Volume on the gauge was 24 percent below the 30-day average. The Nikkei 225 Stock Average lost 0.7 percent to 17,117.07. The BOJ's decision to maintain its monetary base target at a record 80 trillion yen and interest rates at negative levels will be followed by a policy decision from the Federal Reserve on Wednesday.
"It was as expected," said Yusuke Kuwayama, a portfolio manager at Tokio Marine & Nichido Fire Insurance Co. in Tokyo. "As a whole, this is not a negative and not something that will derail the market's recent trend in the risk-on direction. The focus now is on tomorrow's FOMC."
The BOJ also announced that the amount outstanding for Money Reserve Funds entrusted to an institution will be added to the so-called Macro Add-on Balance of the institution, meaning that negative interest rates won't be applied to these funds.
"Setting MRF rates at zero is obviously a plus for brokerages. If you send money to your broker, by default it will all go into MRFs, so the brokerage see it a bit like deposits," said Kuwayama.
Brokerages initially rose on the news, with Nomura Holdings Inc. and Daiwa Securities Group Inc. climbing at least 2.5 percent. They later reversed those gains, falling at least 0.5 percent.
Insurers were the biggest losers on the Topix, with Dai-ichi Life Insurance Co. retreating 3 percent. Bando Chemical Industries Ltd. rose 2.9 percent after announcing it will buy back as much as 2.1 percent of its shares, while Kandenko Co. declined 5.2 percent after saying it will sell 20 billion yen in convertible bonds. Oki Electric Industry Co. rose 4 percent after Goldman Sachs Group Inc. raised its rating on the personal computer maker to neutral from sell.
Thirty-five of 40 economists surveyed by Bloomberg had forecast the BOJ would keep policy unchanged Tuesday, with most expecting the bank's board to wait before approving more monetary stimulus. Governor Haruhiko Kuroda surprised markets with his Jan. 29 decision to introduce negative interest rates.
The BOJ's and Fed reviews come as investors start to question the potency of central bank intervention. Japan's surprise shift into negative rates and last week's unprecedented stimulus move from the European Central Bank have received a mixed reception in markets as concern over a potential global slowdown and the impact of falling oil prices unnerves traders. Global equities have staged a cautious comeback since reaching a 2 1/2-year low mid-February, as the prospect of a production freeze steadied oil prices and commodities.
Futures on the Standard & Poor's 500 Index fell 0.2 percent. The underlying U.S. equity gauge slipped 0.1 percent on Monday in light trading, near the highest levels this year, as investors await further assurances that central banks will continue to support growth. The Federal Open Market Committee is scheduled to make its rate decision on Wednesday.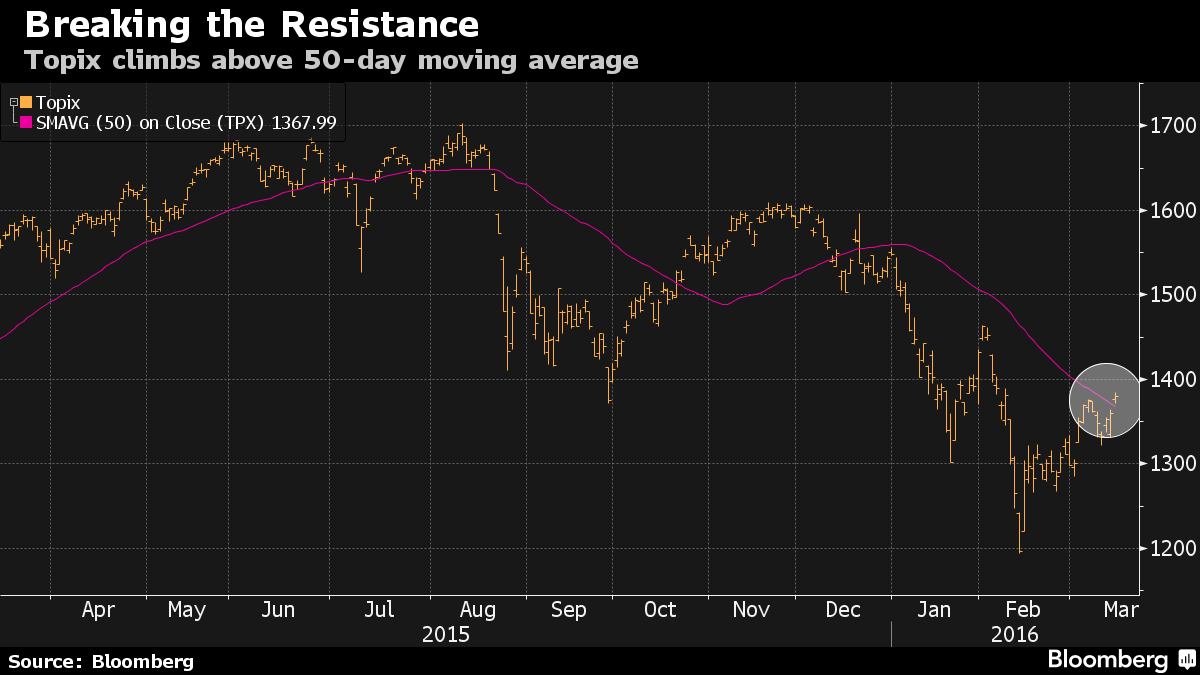 The Topix index closed Monday above its 50-day moving average after trading below it since mid-December. The last time the equity measure rose above the 50-day average was in October, when it continued gaining for about a month for a 5.2 percent advance. The gauge posted its first weekly decline in four weeks last week, after jumping 15 percent over the preceding three weeks.
Data released Tuesday afternoon showed that Japanese industrial production increased 3.7 percent in January from December.
Before it's here, it's on the Bloomberg Terminal.
LEARN MORE