China's Draft Tobin Tax Highlights Drive for New Financial Order
by
Currency-trading tax seen as response to capital outflows

Move raises questions about push to internationalize yuan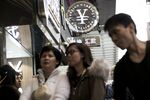 China's plans for a tax on currency trading triggered an outcry of criticism about the potential hit to financial markets. Obscured in the conversation is how the move shows again that the world's No. 2 economy isn't content with acceding to a global financial system crafted by No. 1.
No major economy has implemented a Tobin tax, a move that backers say would curb currency speculation that distorts exchange-rate values. The rules still need central government approval and it's not clear how quickly they can be implemented, according to people familiar with the matter. The initial levy would be kept at zero to allow authorities time to refine the rules, and it wouldn't be designed to disrupt hedging and other foreign-exchange transactions undertaken by companies, they said. 
QuickTake The People's Currency
One hope: a Tobin tax could help curb an outflow of funds from China that last year reached a record $1 trillion. The idea follows China's use of its leadership of the Group of 20 to examine proposals that would reduce the dollar's dominance. Other evidence of China's desire to revamp global financial architecture has been seen in its launch of development banks to rival established lenders such as the World Bank. 
"There's a growing sense that China is leading the thinking in terms of questioning the value of unsettled capital flows," said Tim Condon, head of Asian research at ING Groep NV in Singapore. "Some kinds of flows probably need to be restricted. I don't think China will be the only one."
Credibility Crash
China's proposal comes at a time when credibility in its policy making process has been severely dented after a bungled response to a stock market rout in 2015 and after a shock devaluation of the yuan triggered an acceleration in outflows. The yuan has weakened about 4.7 percent against the dollar since the start of August and authorities burned through $513 billion of foreign exchange reserves last year to defend the currency, the first-ever annual drop.
"Compared with hemorrhaging FX reserves or guerrilla warfare with speculators, a Tobin tax has some appeal," Bloomberg Intelligence economists Tom Orlik and Fielding Chen wrote in a note. "The hope is that a minimal tax applied to all FX transactions would throw sand in the wheels of speculators, tying movements in the yuan more closely to the fundamentals of the real economy."
The other benefit: controlling the currency would swing from a cost in lost foreign exchange reserves to a benefit in the form of increased tax revenue, the analysts noted. The catch: real world impacts are hard to forecast and may prove counterproductive.
Market Perceptions
In theory, China could implement the tax and still push ahead with freeing up the yuan, but that's provided its design isn't considered punitive by market participants, according to Louis Kuijs, chief Asia economist at Oxford Economics in Hong Kong.
"Internationalization of the yuan relies a lot on a favorable perception internationally about China's financial policies," Kuijs said. "It is thus likely that something like a Tobin tax would be seen internationally as a setback."
PBOC Deputy Governor Yi Gang raised the possibility of implementing the punitive measure late last year in an article written for China Finance magazine.
"If the PBOC makes it very clear that the Tobin tax will only apply to a narrow range of high frequency capital account transactions, it may not be contrary to the spirit of a freely usable currency," said Victor Shih, a professor at the University of California at San Diego who studies China's politics and finance. If the tax is slapped on a wide rage of transactions, it will hurt the yuan's international appeal. "In general, any such restrictions only deter investors from holding yuan assets," he said.
Reserve Currency
A promise to let the market have a bigger say in setting the yuan's value was key to China winning approval for entry into the International Monetary Fund's basket of reserve currencies later this year. But since that decision was taken in November, China's authorities have spent scores of billions of dollars to fend off speculators who want to push the currency lower and have tightened some capital controls, even as they eased others that allow money to come in.
The PBOC is likely realistic about which transactions it can successfully snuff out by making them more expensive, and has a better record than the government-led interventions to support the stock market, said ING's Condon.
"The intervention in the currency market is very targeted and, unlike the stock market, by and large they have been successful," he said.
Before it's here, it's on the Bloomberg Terminal.
LEARN MORE