China Grapples With Job Cuts and Wage Gains as Congress Closes
Bloomberg News
Li says 6.5%-7% growth allows 'for relatively full employment'

One struggling coal mining firm already has cut 22,500 workers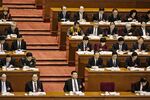 Jobs have been a top agenda item for Chinese officials gathering in Beijing for the annual National People's Congress. Another big issue: sluggish wage gains.
Premier Li Keqiang will close the almost two-week gathering Wednesday with a press conference, where he'll have a chance to detail how policy makers plan to balance shutting down unprofitable state-owned industries and not spurring mass unemployment.
Wage growth has been held down by salary freezes, most recently in Guangdong, China's most populous province with 107 million people and a $1.1 trillion economy. Another complication: some companies stopped paying workers, sparking rare public protests.
Much is at stake. Steady employment and rising salaries are crucial to the shift toward an economy built on consumption and services and away from exports and investment. Here are the key comments on jobs and wages from authorities so far during the NPC:
Jobs Target
Li opened the annual gathering by announcing this year's economic growth target would be 6.5 percent to 7 percent. He said in his work report to the ceremonial legislature that such a pace "will allow for relatively full employment."
Even with the slowest economic growth in a quarter century, the urban surveyed unemployment rate was at about 5.1 percent in the first two months of this year, according to the National Bureau of Statistics.
Li's plan also sets a goal of creating 10 million new jobs this year, the same target as the last two years. Minister of Human Resources Yin Weimin told reporters at the NPC last week China will offer assistance to people who lost their jobs as the government reduces overcapacity in some industries.
SOE Layoffs
Yin also said recently about 1.8 million steel and coal workers will be laid off as the country cuts industrial overcapacity and reforms bloated state-owned enterprises.
The Heilongjiang provincial government in China's northeast rust belt said last week that state-owned LongMay Mining Group delayed worker paychecks. The coal firm said last year it planned 100,000 job cuts, according to China Daily. The company recently laid off 22,500 workers, the official Xinhua News Agency reported last week.
Metals trader China Minmetals Corp., one the largest state-owned enterprises, also is under pressure to cut jobs, a vice president said Sunday on the sidelines of the NPC.
SOE reforms must also balance employee interests, Xiao Yaqing, chairman of the State-Owned Assets Supervision and Administration Commission, said at a briefing on Saturday.
Wage Gains
The most recent data show wages grew 9.5 percent in 2014, the slowest pace since at least 2000, according to NBS data.
Salaries have risen faster than labor productivity in recent years, and that's "not sustainable in the long run," Finance Minister Lou Jiwei said at an NPC press briefing. 
Average salaries for the country's 277 million migrant workers rose 7.2 percent in 2015, compared with a 9.8 percent increase in 2014, NBS data show.
Guangdong said last month it will freeze the minimum wage for two years to help companies cut labor costs. The three provinces in the northeast rust belt, Heilongjiang, Liaoning and Jilin, haven't raised minimum wages since 2013.
---

---
— With assistance by Xiaoqing Pi
Before it's here, it's on the Bloomberg Terminal.
LEARN MORE