Carlos Slim Buys Half a Billion Dollars in America Movil Stock
by
Filings detail acquisitions through family investment vehicle

Shares have suffered on Brazil outlook, Mexico competition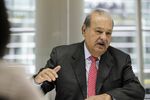 Billionaire Carlos Slim has spent more than half a billion dollars buying shares of his mobile-phone company America Movil SAB in the six months through February, taking advantage of the lowest prices in six years.
Slim's family investment vehicle Inversora Carso has spent about $544 million acquiring 729,000 shares since Aug. 10, according to a filing with the U.S. Securities and Exchange Commission on Tuesday and one in December. As of Tuesday's close, America Movil made up about half of Slim's $54.1 billion fortune, according to the Bloomberg Billionaires Index, which lists him as the world's fourth-richest person.
The acquisitions may bolster investor confidence in America Movil, which touched a six-year low of 10.92 pesos (61 cents) in January. The carrier has suffered from the dismal economic outlook in Brazil, its second-biggest market, as well as stronger competitors and an antitrust crackdown in its home market of Mexico.
The company aims to improve its performance in Mexico by getting a pay-TV license to compete against cable providers owned by Grupo Televisa SAB. That depends on a ruling from the government later this year on whether antitrust rules have helped promote competition in Mexico's phone market.
Arturo Elias Ayub, Slim's spokesman, didn't respond to a request for comment.
Slim has also borrowed against his holdings in America Movil. Inversora Carso reported a loan agreement with Banco Santander SA signed in January of this year, in which it is entitled to borrow as much as 230 million euros ($236 million) backed by America Movil shares. Control Empresarial de Capitales SA, a subsidiary of Carso, also entered a loan agreement with Santander in February for up to 130 million euros under the same conditions.
Both entities entered a joint loan agreement with HSBC Bank Plc in March 2015 for up to 450 million euros, according to the filing Tuesday. Control Empresarial has another loan agreement for up to 350 million euros dating back to December 2014.
America Movil fell 2.7 percent to 12.96 pesos at the close in Mexico City. The stock is up 6.9 percent this year.
Before it's here, it's on the Bloomberg Terminal.
LEARN MORE