Cap Gemini Says Founder Serge Kampf Dies at Age of 81
Mark Deen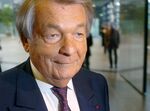 Cap Gemini founder Serge Kampf died in his native French town of Grenoble, the company said. He was 81.
Kampf left the chairmanship of the company in 2012 after 45 years, passing the reins to current chairman Paul Hermelin.
"Serge was an exceptional man, a builder," Hermelin said in a statement.
(Company corrects Kampf's age in second statement.)
Before it's here, it's on the Bloomberg Terminal.
LEARN MORE