Why the Philippines' Best-Performing Stock Is So 'Unpredictable'
by and
Diversification has made company's earnings more erratic

Conglomerate is biggest Asian company lacking analyst coverage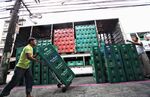 San Miguel Corp. is the Philippine stock benchmark's best-performer this year, handing investors a 55 percent gain that no analyst predicted.
The miss comes because the 126-year-old beer, oil and infrastructure conglomerate is no longer covered by stock analysts. As the Philippine's biggest company diversified, earnings became harder to predict. Coverage dwindled, then halted altogether.
Under President Ramon Ang, San Miguel has become the country's most acquisitive company, widening the scope for future deals. Just as the company is becoming more complicated, the lack of analysts makes it harder for investors to evaluate the shares because they are left to dig out financial data themselves and have no consensus estimates for comparison.

"San Miguel has become very complex and unpredictable in terms of the direction of its expansion and asset sales," said James Lago, research head at PCCI Securities Brokers Corp., who stopped attending San Miguel's quarterly briefings and just downloads its presentations and financial statements from its website.
Among the more than 200 companies traded in Asia with annual revenue of more than $15 billion, San Miguel is the only one that isn't covered by analysts. Nor does the company, scheduled to report fourth-quarter profit on March 17, offer guidance on its results.
Stock Valuations
With or without analyst reports to guide them, investors may puzzle at the extent of San Miguel's rally this year. The stock was already expensive at more than 100 times earnings at the end of 2015, before the 55 percent rally. Now, they're at 169 times last year's earnings, almost eight times the index average and more than double the next most expensive stock on the Philippine Stock Exchange PSEi Index.
San Miguel didn't respond to requests for comment.
The company posted a 2.48 billion peso ($53 million) loss in the September quarter, its biggest quarterly deficit since 2013, after reporting net income of 6.33 billion pesos in the previous three months and 2.32 billion pesos the quarter before that.
The moves into energy and an increase in dollar-denominated debt has also raised the company's sensitivity to exchange rate fluctuations. Profit fell by more than half to 6.17 billion pesos for the first nine months of 2015 as a weaker peso quadrupled foreign exchange losses to 10.3 billion pesos.
Every peso decrease in the U.S. dollar exchange rate has a 5.2 billion-peso effect on San Miguel's pretax profit primarily because dollar-denominated debt accounts for nearly half of its 855.8 billion pesos in liabilities, according to the company. The peso fell more than 5 percent in 2015.
The earnings volatility hasn't prevented shares from surging this year amid expectations the declining price of crude will boost profit at the company's oil refining operations. Petron Corp., San Miguel's listed oil refiner, is the second-best performer this year on the Philippine benchmark.
Revenue Jump
While diversification has wiped out analyst coverage, it has been good for revenue. Sales surged by more than five times 2007 levels to 782.4 billion pesos in 2014, or more than 5 percent of the Philippines' gross domestic product. Still, the company's debt levels have surged and the stock slumped 66 percent in the five years through 2015, while the nation's benchmark equities index climbed 65 percent.
Investors in San Miguel's debt are also without help from ratings. The company's credit is not rated by any of the more than 30 agencies tracked by Bloomberg.
Some investors prefer to get exposure to San Miguel by buying preferred shares, which pay a set rate, while eschewing common stock.
"We don't buy the common shares for our alpha or growth funds because there are better alternatives," said Robert Ramos, chief investment officer at Union Bank of the Philippines, with about $844 million in assets under management. "The preferred shares is a different story, and investors find it attractive because of its high dividend yield."
The company said on March 11 it is selling 30 billion pesos of preferred shares that may be redeemed in five to 10 years, with yields set at as much as 6.5793 percent. In September, it raised 33.5 billion pesos from a similar fundraising.
Raising Funds
Ang said in February that San Miguel plans to sell retail bonds and preferred shares and cut its dollar-denominated debt to tap the Philippines' growing wealth and shield its earnings from a weaker peso.
Total debt averaged about 7.5 times earnings over the five quarters ended Sept. 30, according to data compiled by Bloomberg.
San Miguel and funds controlled by its president own more than 80 percent of outstanding shares, increasing the risk for investors outside the company itself, as it leaves fewer shares available when an investor wants to buy or sell.
Ang said in a 2011 interview that he may buy back shares, taking the company private, as disclosure requirements of the exchange have sometimes hampered acquisition plans.
"From Ramon Ang's point of view, he has a vision; that the company can't just be in the beer business and that it had to put its cash to work," said Bede Lovell Gomez, First Metro Investment Corp. vice president and head of its investment advisory and trust group. "To analysts, the company seems to have lost focus."
Before it's here, it's on the Bloomberg Terminal.
LEARN MORE