Ackman Gets More Involved at Valeant After $764 Million Loss
by and
Drugmaker's shares drop as much as 51 percent on Tuesday

Investor has board seat, says will take `more proactive role'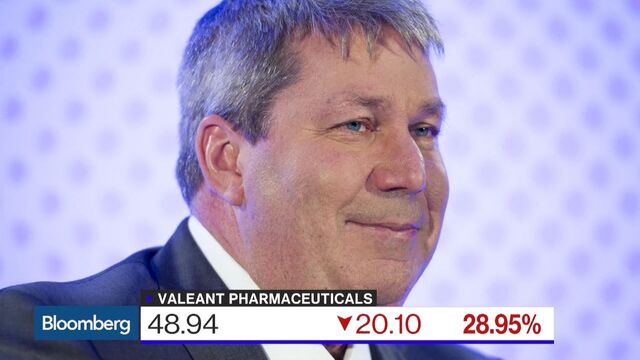 Billionaire investor Bill Ackman's Pershing Square Capital Management LP said it will take a much larger role at Valeant Pharmaceuticals International Inc., after in a single day losing about $764 million on the common shares it owns, following the drugmaker's as much as 51 percent stock drop Tuesday.

"We are going to take a much more proactive role at the company to protect and maximize the value of our investment," Ackman said in a letter Tuesday. Pershing owns 6.3 percent of Valeant shares, according to data compiled by Bloomberg. He said that investors have lost "total confidence in the company," contributing to the stock drop.
An early sign of Pershing Square's increased involvement came last week, when Vice Chairman Steve Fraidin joined Valeant's board. Fraidin's directorship gives Pershing Square some oversight of the running of the company, particularly its financial management and communications, according to a person familiar with the situation, who asked not to be identified discussing private information.
Despite the slide in the stock since Pearson returned from medical leave last month, Pershing Square remains supportive of the Valeant CEO, the person said, suggesting it is aligned with fellow activist investor ValueAct Capital Management on that matter.
ValueAct CEO Jeff Ubben said Monday in an interview with CNBC that Pearson is the right man for the job.
A representative for Pershing Square declined to comment.
Shares Plunge
Valeant shares plunged Tuesday morning to as low as $33.66, their worst day ever, after the company cut its 2016 forecast, reported a weak fourth quarter and said it risked breaching some of its debt agreements if it can't file its annual report in time. Chief Executive Officer Mike Pearson has promised to restore confidence in the drugmaker with investors.
Yet the company's stock losses -- the shares are down more than 85 percent since their August peak of $262.52 -- have cost Ackman and other large holders billions of dollars in paper losses. Ackman's calculated losses assume the investors still own the number of shares listed in their most recent regulatory filings. Pershing's loss doesn't include declines it may have had on Valeant options that it also owns.
Pershing Square, based in New York, often buys large stakes in companies that it sees as undervalued, and then sometimes pushes for changes by the management or board to boost returns. In October 2014, a public fund called Pershing Square Holdings Ltd. began trading in Amsterdam with the same portfolio as the hedge fund; its stock was down 12 percent on Tuesday.
Debt Waiver
Ackman also said he believed Valeant would be successful in getting a waiver from creditors to avoid violating its debt agreements, since it will be late filing its annual report. Valeant said it must file its 10-K by March 30 to avoid triggering cross-defaults that would restrict it from being able to further tap its credit line. It won't be able to meet that deadline and will begin asking lenders next week to amend the agreements.
"While we believe that it is highly likely that the banks will provide a waiver, uncertainty about the potential for a default creates enormous investor fear," Ackman said.
Last week, Valeant announced it was adding three new board members, including Fraidin. Ackman said he believed the company was undervalued, and was worth "multiples" more than its current price.
"Getting to those values, however, will require restoration of shareholder confidence in the management and governance of the company," Ackman said.
(An earlier version of this story corrected the size of the loss in first paragraph.)
Before it's here, it's on the Bloomberg Terminal.
LEARN MORE