'Hamilton' Star Joins Democrats Seeking Help for Puerto Rico
by
Lin-Manuel Miranda joins Democrats in plea for help in D.C.

Broadway musical creator calls for restructuring assistance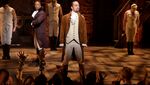 Puerto Rico is getting help from the hottest show on Broadway.
Lin-Manuel Miranda, composer and star of the sold-out musical Hamilton, gave his support in Washington Tuesday to a bill from Senate Democrats that would allow the cash-strapped island to declare bankruptcy and ease its $70 billion debt load.
Miranda, whose parents were born in Puerto Rico and spent summers on the island, stressed the need for Congress to help Puerto Rico improve its finances. Flanked by U.S. Senator Kirsten Gillibrand of New York, sponsor of the measure to allow the commonwealth to use bankruptcy, Senator Elizabeth Warren of Massachusetts and Senator Chuck Schumer of New York, Miranda described how his grandparents' town, Vega Alta, suffers from job loss and residents leaving for the U.S. mainland.
"What we need is the ability to restructure and get Puerto Rico out of the hole it's in," said Miranda, who performs the title role in his musical of the nation's first Treasury Secretary, Alexander Hamilton, a native of the Caribbean. "So I'm urging Congress. If Hamilton tickets will help, I'm happy to do that too."
Puerto Rico and its agencies racked up debt after years of borrowing to fix budget shortfalls as the island's economy has struggled to grow for a decade. Governor Alejandro Garcia Padilla is seeking to cut the island's obligations by asking bondholders to take a loss on their securities. Two agencies have already defaulted and more could follow, Garcia Padilla has warned. The Government Development Bank owes investors $422 million on May 1. The commonwealth and its agencies face another $2 billion due July 1.
"The next payment's due in May and if they can't meet that payment, the crisis just deepens," Gillibrand said during the press conference in Washington. "And it's a continuous cycle, as they called it a death spiral, of horrible outcomes for the people of Puerto Rico."
Puerto Rico and other U.S. territories are unable to use the nation's municipal bankruptcy laws to reduce its debt, as Detroit did. Gillibrand's bill would also establish "strong and independent fiscal oversight," according to a statement about the measure. It follows similar legislation that Senator Bob Menendez of New Jersey filed Monday, and co-sponsored by Warren and Schumer, that would enable the island to restructure all of its debt, create a reform board staffed mostly by island officials, and place Puerto Rico's pensions senior in repayment to its outstanding debt.
House Republicans have called for a tougher federal control board and limited restructuring powers. The House Natural Resources Committee expects to make its legislation public by March 31, after Speaker Paul Ryan assigned that deadline.
Miranda spoke with Gillibrand after performing in front of President Barack Obama, First Lady Michelle Obama and local students at the White House Monday with the Hamilton cast. Miranda also freestyle rapped in the Rose Garden as Obama tried to stump the performer with words and phrases.
Broadway's lights are no match for the glare of Washington.
"This is a lot more nerve-racking than a Broadway stage," Miranda first said when he approached the podium to highlight Gillibrand's bill.
Before it's here, it's on the Bloomberg Terminal.
LEARN MORE