Can Your Office Trick You Into Getting Healthier?
Design experts are working with companies to nudge employees in a healthier direction without them noticing.
By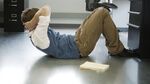 Historical buildings can be inspiring, but they don't always reflect the demands of modern workplaces. "We had a beautiful antique building," said Brian Todd, the public information officer for the Nashville Metro Public Health Department, of the city's Lentz Public Health Center. "But it got to a point where we really didn't need bomb shelter." What the office did need? Spaces that encouraged walking, climbing, and convening in groups, without making it feel forced.