U.S. Stocks Little Changed Before Central Banks Meet This Week
by
Commodity shares fall amid crude-oil selloff, banks decline

Investors will watch Fed meeting this week for rate signals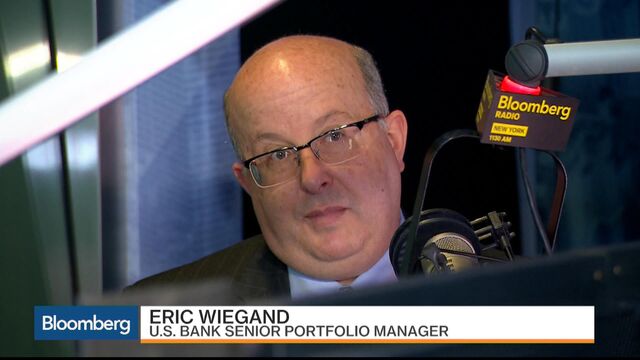 U.S stocks closed little changed in light trading, near the highest levels this year, as investors awaited further assurances that central banks will continue to support growth.
Gains in consumer shares, including Amazon.com Inc., Starbucks Corp. and Walt Disney Co., offset declines in energy and raw-materials companies, with commodity shares lagging Monday as crude oil fell. Banks also slipped for the first time in three sessions. Starwood Hotels & Resorts Worldwide Inc. added 7.8 percent after an unsolicited takeover offer from a group of companies led by by China's Anbang Insurance Group Co.
The Standard & Poor's 500 Index fell 0.1 percent to 2,019.64 at 4 p.m. in New York, closing above its average price during the past 200 days for a second session. The Dow Jones Industrial Average added 15.82 points, or 0.1 percent, to 17,229.13, after weaving between gains and losses. The Nasdaq Composite Index increased less than 0.1 percent. About 6.4 billion shares traded hands on U.S. exchanges, 29 percent below the 2016 average.
"We've come so far so fast that at this stage, we're just treading water after such a big move," said Frank Cappelleri, executive director at Instinet LLC. "One area to watch for clues are financials and banks. That becomes even more important with the Fed announcement on Wednesday. They've been a major reason why the S&P has been able to extend further than it originally would have."
The Federal Reserve's two-day meeting this week will be in focus for indications on the trajectory of interest rates, after equities on Friday surged in the wake of additional stimulus steps from the European Central Bank. The Bank of Japan concludes a policy review Tuesday, while the Bank of England has a rate decision Thursday. Central banks have indicated a willingness to continue measures to boost growth and stabilize markets, helping buttress a comeback for U.S. stocks in the past month.

The S&P 500 has rebounded more than 10 percent since a Feb. 11 low and trimmed its 2016 drop to 1.2 percent, after losses of as much as 11 percent amid concern over China's economic slowdown and a deepening oil rout. The gauge capped its fourth straight week of gains on Friday, the most since November, and closed above its 200-day moving average for the first time this year, ending its longest streak below that threshold since 2011.
Constituents in the benchmark are poised to repurchase as much as $165 billion of stock this quarter, approaching a record reached in 2007. The buying contrasts with rampant selling by clients of mutual and exchange-traded funds, who after pulling $40 billion since January are on pace for one of the biggest quarterly withdrawals ever.
While traders are pricing in little chance of a Fed rate increase on March 16, they have boosted the odds for later in the year. The probability of a June move is now 53 percent, from less than 2 percent a month ago, bolstered by improving economic data, stabilizing oil prices and the comeback in equities.
Fed Watch
Fed officials have stressed that the pace of rate increases, following December's first boost since 2006, will be gradual and data-dependent. Reports on retail sales, industrial production and housing starts will also be assessed this week for signs of strength in the world's biggest economy.
"I think the Fed will tread very cautiously," said Joachim Fels, global economic adviser for Pacific Investment Management Co., during an interview on Bloomberg TV. "They learned last year and very early this year that the rest of the world -- debtors, emerging markets and in particular China -- are not ready for higher rates."
Oil fell from a three-month high Monday as Iran said it would raise output to pre-sanctions levels before joining talks to freeze production, putting pressure on energy shares. West Texas Intermediate crude dropped 3.4 percent to $37.18 a barrel.
The Chicago Board Options Exchange Volatility Index rose 2.6 percent to 16.92 after falling Friday to the lowest this year. The measure of market turbulence known as the VIX remains on track for its first monthly decline since October, which would halt the longest streak of gains since 2011.
"The combination of some modest profit-taking and then a reaction to the price of oil declining is giving the market not even a hair cut, but just a slight trim," said John Stoltzfus, the New York-based chief market strategist at Oppenheimer & Co. "After a 10 percent rally in this type of market, with job growth good but wage growth relatively anemic, earnings season still a few weeks away and energy sector earnings projected down, the curb-your-enthusiasm would be somewhat called for."
Energy Slides
Six of the S&P 500's 10 main industries fell, with energy, financial and raw-materials companies dropping at least 0.4 percent. Consumer discretionary shares gained 0.4 percent while industrial, technology and utility stocks were little changed.
Consumer discretionary companies advanced, thanks in large part to a boost in travel-related shares. Starwood traded at a four-month high. Marriott International Inc., which reaffirmed its bid to buy Starwood, added 3 percent. TripAdvisor Inc. climbed 4.5 percent amid takeover speculation circulating on Twitter.
Retailers ed for a fourth day, the longest stretch in almost a month. GameStop Corp. increased 3 percent, while Dollar Tree Inc. gained 1.2 percent amid its lengthiest rally since Feb. 1.
Southwestern Energy Co. and Chesapeake Energy Corp. were among the worst performers in the S&P 500, falling more than 6.7 percent. Southwestern was the second-best performing stock on Friday, but gains reversed as the price of oil declined.
Financials reversed part of a Friday gain, as banks in the index dropped 0.5 percent, after losing as much as 1.3 percent. Bank of America Corp. fell 1.1 percent, while Comerica Inc. climbed 1.4 percent after CLSA upgraded the company on takeover speculation.
Among other shares moving on corporate news, Fresh Market Inc. soared 24 percent, the most since 2010, after Apollo Global Management LLC agreed to buy the grocer for about $1.4 billion in cash. It's the buyout firm's third announced acquisition of more than $1 billion since the start of February.
3D Systems Corp. jumped 25 percent, the most in five years to a seven-month high after the company's quarterly profit and sales topped analysts' estimates.
Before it's here, it's on the Bloomberg Terminal.
LEARN MORE