Surrogates
Romney Touches Down for Kasich in Ohio to Help Block Trump
By and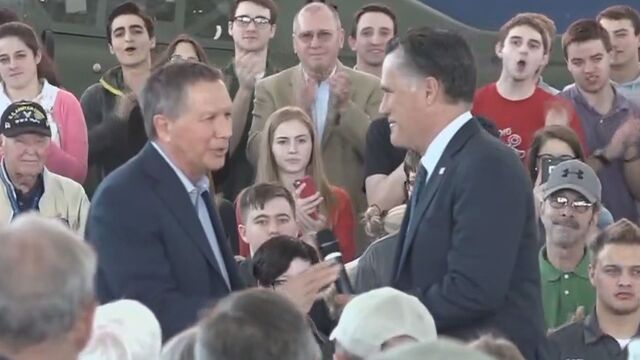 Mitt Romney came to Ohio on Monday to help Governor John Kasich beat Donald Trump in the Republican presidential primary, part of the 2012 nominee's effort to prevent the billionaire from becoming the party's standard-bearer in 2016.
"This is the guy that Ohio needs to vote for. America is counting on you," Romney said at a town-hall event at a military aircraft museum in North Canton. The former Massachusetts governor also appeared with Kasich at a primary-eve rally in his hometown of Westerville, in suburban Columbus.
Romney didn't mention Trump by name during his brief introductions of Kasich, other by inference, when he said in North Canton, "Unlike the other people running, he has a real track record."
Kasich also didn't name Trump but did take issue with "people slugging it out at a campaign rally" for the billionaire, images he said were broadcast worldwide.
"You think they're not using that for propaganda to send a message to people that America is broken, that America is lost?" Kasich said during his speech in North Canton. "We can't unite America by dividing America."
Romney's appearances come as a fight for the direction of the Republican Party plays out in the Buckeye State and four other states ahead of Tuesday's primaries. Kasich has vowed to quit the race if he doesn't win Ohio, where a poll released Monday found him tied with Trump, and he hopes a victory will help him collect enough delegates in subsequent contests to compete for the party's nomination at a contested convention in Cleveland in July.
At the same time Kasich and Romney were speaking in Westerville, Trump held an airport rally north of Youngstown to make a last-minute appeal to working-class voters in Ohio and win the state's 66 delegates. 
Trump repeated his past criticism of Romney as "a disaster" who should have won the 2012 election. He called Kasich "overrated" as a governor who "cannot make America great again." The billionaire vowed to bring industry back to the Buckeye State and revive the Republican Party.
"The biggest story in politics—worldwide, it's the biggest story in the world—is what's happening with the Republican Party," Trump said.
Romney is leading an effort by Republican establishment leaders to stop Trump on grounds that his boorish behavior and ill-defined policies make him unfit to be president and would ensure the election of Democratic front-runner Hillary Clinton if he were the nominee.
Romney recorded a robocall that the Kasich campaign sent to Michigan voters before that state's March 8 primary, though Kasich finished third there behind Trump and Cruz.
Romney and proponents of the so-called "Never Trump" movement have urged voters to back Kasich, Florida Senator Marco Rubio, or Texas Senator Ted Cruz wherever it makes sense to deny Trump a majority of delegates before the convention. On Friday, Rubio even said he thinks his Ohio supporters will back Kasich because "he has a better chance of stopping Donald Trump in Ohio than I do."
Romney was not scheduled to appear with Rubio in Florida ahead of that state's primary. Polls show Rubio trailing Trump by double digits in his home state.
Cruz made a last-minute campaign stop in Columbus on Sunday, saying only he and Trump have a mathematical chance to secure enough delegates to become the party's 2016 nominee.
Kasich said while he's running to be president and not just to deny Trump the nomination, beating him in Ohio and elsewhere increases the likelihood of a contested convention because no one gets the required 1,237 delegates beforehand.
"I'm not running to block anybody, but the math is real," Kasich told reporters after an event on Monday in Youngstown at Brilex Industry, a company with 140 employees that manufactures equipment for the steel, rubber, plastics, and paper industries.
While Trump has won 15 states and is leading the delegate chase with his vow to "make America great again," Kasich, a two-term governor and 18-year congressman, is making the case he can bring to the U.S. the formula that he used to help balance the federal budget in the 1990s and to spur Ohio's economic recovery from the recession.
Trump is wooing disaffected voters in the Buckeye State as he has in other states, criticizing Kasich's support of trade agreements and his stint at the failed Lehman Brothers after leaving Congress.
The real estate mogul appears to be attracting Democrats and first-time voters to the Republican primary in Ohio as he has elsewhere. Voters in Ohio can select either party's ballot, and their choice determines their affiliation.
In Mahoning County, a former steel-making hub and Democratic stronghold where Youngstown is the largest city, Republicans accounted for a minority of Republican absentee ballots requested as of Friday, according to the county Board of Elections.
Of the almost 3,900 Republican ballots sought in the county, 23 percent were from Democrats and 32 percent from unaffiliated voters who may not have voted recently or taken a specific party's ballot in a primary, the board said.
Trump is appealing to people "reaching out for something radical to bring about change" in a country with dysfunctional national politics, stagnant wages, and job insecurity despite an improving economy, said Brian Benyo, chief executive of Brilex Industries and a Kasich supporter.
Kasich can beat Trump in Ohio with his record, he said.
"He's best suited to make government work in this country," Benyo said.