Merkel's Electoral Setback Hands Turkey Greater Leverage Over EU
by
Chancellor holds to European solution over unilateral steps

Turkey, as refugee gateway, is `only game in town:' Eurasia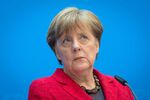 German Chancellor Angela Merkel got her marching orders from voters to cut the flow of refugees.
QuickTake Turkey's Continental Divide
Now she needs her longtime opponent, Turkish President Recep Tayyip Erdogan, to play along and help lift her out of the most career-threatening jam of her decade in power.
Double-digit scores by the anti-immigration Alternative for Germany party in three state elections Sunday brought the animus toward refugees from the frontiers of Europe into its heartland. While Merkel refused to shift her policy in response, the AfD's breakthrough puts the onus on her to win over Turkey as Europe's first line of defense against the tide of refugees from Syria.
"Turkey is really the only game in town when it comes to the short-term reduction of refugee flows," said Mujtaba Rahman, director of European analysis at the Eurasia Group in London.
Courted by EU
Increasingly shunned by the EU as a potential member, Turkey suddenly finds itself courted by the 28-nation bloc as the country with the power to waive refugees northwards or hold them back. It will show up at a summit Friday in Brussels with unprecedented leverage.
The EU-Turkey summit, preceded by an EU-only meeting on Thursday, will seek to pin down an agreement to halt the chaotic crossings of the Aegean Sea that 139,000 have survived -- and at least 96 haven't -- so far this year.
After denouncing countries like Austria and Hungary for setting up makeshift barriers to migrants without full EU backing, Merkel did some policy freelancing of her own in striking the preliminary deal with Turkey.
Merkel's solution is a one-for-one arrangement to parcel out Syrian war refugees between the EU and Turkey. It would be a neatly bureaucratic way to adjudicate human fates: for each Syrian sent back to Turkey after reaching European soil in Greece, EU governments would offer a home to a Syrian currently in a Turkish refugee camp.
Legal Hurdles
One-for-one became the EU consensus on March 7, at least for a few hours, until questions arose about its feasibility. There are legal, logistical and humanitarian hurdles to loading people into boats and hauling them from Greek islands back to a limbo-like subsistence in Turkey, as the United Nations human rights commissioner pointed out.
"Many refugee and human rights organizations have also indicated that there is a serious legal issue with the proposed one-for-one automatic return of all persons arriving irregularly in the EU from Turkey without an investigation into their international protection needs," said Elspeth Guild, a professor at Radboud University Nijmegen and associate of the Brussels-based CEPS think tank.
Merkel still has options. The influx into Germany has slowed to a trickle thanks to those border closures further south that she disapproved. The German opposition is disunited and her own job isn't on the line until elections in late 2017.
'Vindicated'
There are also other ways of looking at the state election results. Merkel's party has a shot at joining coalitions in all three, and rivals who backed her migration stance won two of them.
"The results also vindicated her stance on refugees, in a sense, because two-thirds of Germans have actually expressed sympathy or support for the Merkel government's policy on refugees," Thorsten Benner, director of the Global Public Policy Institute in Berlin, told Bloomberg Television. "Most likely Merkel will stay the course for the time being."
The more immediate political obstacle is that the Turkey deal committed the EU to doing business with Erdogan, who was simultaneously escalating his crackdown on the free media and facing increased European criticism for autocratic tendencies.
Terror Attacks
EU concessions foreseen for Turkey are unthinkable to many. The biggest prize, visa waivers for Turks traveling to Europe, faces resistance in countries such as France beset by a close-the-borders mentality following two terrorist attacks in Paris last year.
Ankara, Turkey's capital, was hit Sunday by the third terrorist bombing in five months. Turkey's fragile security situation may further lessen the European inclination to offer the visa-free concession.
The EU would also speed Turkey's bid for membership, which has been in super-slow motion since starting in 2005. The credibility of that promise is strained by Merkel's longstanding opposition to Turkey ever attaining that status.
Equally in doubt is the European willingness to send charter planes to bring back refugees from Turkey in an orderly, by-the-book process. An EU plan last year to disperse 160,000 new arrivals based on each country's size and economic strength has led to a mere 937 relocations. Ten states have taken none at all, with the antipathy most strident in Hungary, Poland, the Czech Republic and Slovakia.
Merkel's new solution involves the resettling of thousands -- perhaps hundreds of thousands more -- from Turkey, now host to 2.7 million Syrians on the run. Ultimately that brings her back to domestic front: Barring a more welcoming mood in eastern Europe and Scandinavia, the bulk would be destined for Germany.
Before it's here, it's on the Bloomberg Terminal.
LEARN MORE