India's February Consumer Prices Rise 5.18% Year-on-Year
By
WPI falls 0.91% in January versus 0.19% survey estimate

Central bank scheduled to review interest rates on April 5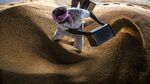 India's wholesale prices fell more than estimated ahead of benchmark consumer data due later on Monday, as investors assess whether central bank Governor Raghuram Rajan will lower interest rates after the government stuck with a plan to narrow the budget deficit.
Wholesale prices declined 0.91 percent in February from a year earlier after a 0.90 percent decrease in January, the Commerce Ministry said in a statement on Monday. The median of 30 estimates in a Bloomberg survey of economists had predicted a 0.19 percent decline. A separate survey shows consumer-price inflation easing to 5.51 percent from 5.69 percent.
Rajan on Saturday said the central bank was "comforted" by Prime Minister Narendra Modi's plan to shrink the budget deficit to 3.5 percent of GDP while telling reporters to "wait and see" how that feeds into monetary policy. He's scheduled to review policy on April 5 as he looks to keep CPI within 5 percent by March 2017.
Meeting India's longer term inflation targets may be challenging as back-to-back years of drought erode harvests and pressure Modi to compensate farmers. He vowed on Saturday to refrain from competitive currency devaluation and cash handouts in a world of negative interest rates. While gross domestic product data show that India's economy is among the world's fastest growing, underlying indicators such as factory output and exports signal weakness.
The rupee was little changed at 67.05 a dollar as of 12:04 p.m. in Mumbai. Benchmark stocks were trading 0.4 percent higher and the yield on the sovereign bond was at 7.61 percent compared with 7.63 percent on Friday.