Croat Premier Sees Draft Budget Passing After `Lively' Debate
James M. Gomez and Jasmina Kuzmanovic
Central bank policy must be independent, Oreskovic says

Coalition partners `aligned' in supporting reform program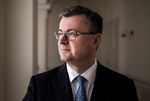 Croatian Prime Minister Tihomir Oreskovic is preparing for a week of parliamentary debate to defend his 2016 draft budget, culminating Friday with a vote that will signal whether he has the backing to push through reforms.
"I'm absolutely confident the budget plan will pass, after a lively debate," Oreskovic said. "My coalition partners are aligned on many of the reforms' objectives. They "have a strong commitment to drive change, they are very supportive, and I'm sure this government has the support and will drive those changes that are required."
Oreskovic wants to strengthen a nascent economic recovery by stabilizing the Balkan nation's debt, and is seeking to attract investors after a six-year-long recession wiped out 12 percent of gross domestic product. Should he secure approval for his budget, the premier plans a summer roadshow for the sale of 1.5 billion euros ($1.7 billion) in international bonds to refinance old debt. 
Oreskovic, a former pharmaceutical executive who took office in January, is the first prime minister who doesn't hail from the two parties that have dominated Croatia since it broke away from Yugoslavia in 1991. He grew up along Lake Ontario, just south Toronto, living outside Croatia for most of his life. He was tapped to lead the coalition of the Croatian Democratic Union and the newly formed Bridge party after the Social Democrats lost elections in November.
Reforms, Investors
The 50-year-old premier wants to lock in reforms and attract investors to overhaul public companies and establish new factories in the Balkan country. Among the planned moves are consolidating hospitals, lowering procurement costs, reducing the number of state agencies and cutting redundant programs.
Oreskovic said he aims to stabilize the debt level, which the central bank calculates at about 85 percent of GDP, before reducing it in the coming years. He wouldn't give specific targets. Oreskovic also brushed off efforts by members of his cabinet's junior coalition partner, Bridge, to amend laws that would strip the central bank of some of its powers and change monetary policy.
"My position is clear: monetary policy has to be independent, which is the case in all European countries," Oreskovic said. "In the last few years, when Croatia has gone through a crisis, the stability that the central bank has provided has been critical. We have a very strong euro-denominated society, so we should focus on productivity and adding value," not on depreciating the kuna.
Rating Cut
Differing views on monetary policy "will not break up the coalition," he said. "This is about one individual having a very strong view, and everyone recognizes the importance of having an independent central bank."
The fragility of the government coalition and its slim majority in parliament were cited by Moody's Investors Service as factors behind last week's decision to downgrade Croatia's debt rating. The company cut the country's sovereign grade one level to Ba2, in line with assessments by Fitch Ratings and Standard & Poor's, keeping the outlook negative.
The yield on government bonds due 2025 closed unchanged Monday in Zagreb at 3.785 percent. That compares with 3.802 percent for similar-dated Hungarian debt, data compiled by Bloomberg showed.
In the interview, Oreskovic touched on a range of issues including the U.K.'s June referendum on leaving the EU, Balkan coordination of the migrant crisis and the country's effort to join the passport-free Schengen area. Oreskovic said he's firmly committed to EU problem-solving, which sets him apart from politicians in the post-communist east including Hungarian Prime Minister Viktor Orban, who's criticized the bloc and urged a claw-back of sovereignty.
"Perhaps a Brexit situation is a good test," said Oreskovic, referring to the popular term for a possible British departure from the European Union. "We have our challenges and differences, but at the end of the day it is about compromising. That's an example that Europe, when faced with challenges, comes up with concrete solutions."
Before it's here, it's on the Bloomberg Terminal.
LEARN MORE