CEO Will Mimic United's Best-Known Critic as Activist Feud Looms
by
Munoz returns to work following a heart transplant in January

Activist investors, with Bethune, wage a boardroom challenge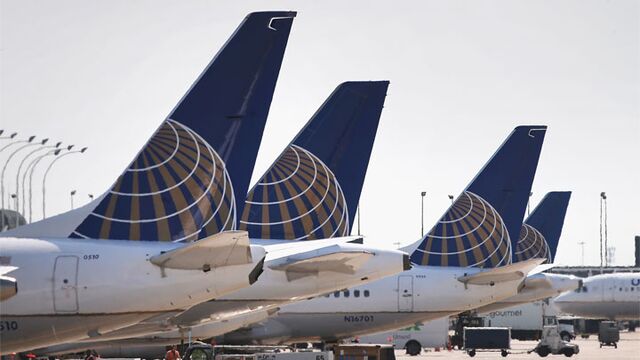 United Continental Holdings Inc.'s chief executive officer returns to his job Monday after a heart transplant, just as two hedge funds threaten to topple his board. His first step: emulating an old friend who is now among the carrier's chief critics.
Oscar Munoz is gathering United's union leaders for a pep talk on Day 1, picking up where he left off before going on medical leave in October. His focus on employees echoes the approach of Gordon Bethune, who overcame years of acrimony between executives and the workforce when he revived Continental Airlines in the 1990s.

Bethune's now leading an insurgent slate of candidates for United's board, joining with activist shareholders who last week blasted the airline for years of poor performance. While they didn't criticize Munoz personally, the returning CEO will have to balance the boardroom duel with efforts to win over employees and turn around the worst-performing major U.S. carrier.
"It's a page out of Gordon's book," Pete Garcia, an aviation consultant who worked under Bethune at Continental, said of Munoz's outreach efforts. "He's making the rounds to get a feel for what's on people's minds, and why aren't we delivering the quality of service people are used to."
Hedge Funds
The two activist funds bearing down on Munoz and United, PAR Capital Management Inc. and Altimeter Capital Management LP, are expected to make a case in coming weeks for throwing out much of United's board. The Boston-based hedge funds, which together control about 7.2 percent of the airline, nominated Bethune and five other people to United directorships.

So far, the investors have spoken only generally about how the airline's poor reliability and weak customer satisfaction led to the U.S. industry's worst-performing stock over five years. It didn't capitalize on an enviable network of hubs in the nation's biggest business markets, including San Francisco, Chicago and Newark, New Jersey, the investors said in a March 8 letter to United's chairman.
United shares have lagged behind those of its biggest U.S. rivals, data compiled by Bloomberg show. Since the Oct. 1, 2010, merger of United and Continental, the shares have gained 136 percent. Southwest Airlines Co. shares have more than tripled in the same period while Delta Air Lines Inc. has almost quadrupled. American Airlines Group Inc. exited bankruptcy in December 2013 and is not comparable. UAL closed on Friday at $58.37, up 1.9 percent so far this year.
United also has trailed its peers in profitability and reliability for years. In 2015, its on-time arrival rate ranked eighth out of 13 U.S. airlines, behind Delta, American and Southwest.
"In our view -- given United's valuable and industry-leading strategic asset base -- this long-term underperformance directly results from an underqualified, ineffective, complacent and entrenched board," the investors wrote Chairman Henry Meyer III.
Union Support
Munoz, 57, is securing support from unions representing United's pilots, flight attendants and ground workers. He's won praise for his habit of dropping in on staff members for a chat, even holding some meetings as he recovered from a heart transplant in January.
United's on-time arrival rate has risen in recent months to the top half of U.S. airlines. Also, the carrier has signed some key labor contracts recently, including a two-year extension for its pilots.
"From our point of view, the progress at United since Mr. Munoz took over has been unprecedented," Craig Symons, president of United's dispatchers union, said Friday. "For the first time in a long time, we feel the airline is pointed in the right direction. There is a definite sense of optimism at United these days and frankly, this proxy fight is a distraction we don't need."
Bethune Style
The activist-backed slate isn't targeting United's CEO, according to Bethune, who recruited Munoz to Continental's board more than a decade ago. Munoz took office in September and worked only a few weeks before his October heart attack.
Munoz must have picked up on Bethune's gregarious style, said Garcia, a former Continental executive who worked on the carrier's Latin American business.
Bethune joined Continental in 1994, which was languishing a year after it exited bankruptcy protection. He helped reverse course by improving on-time performance and service to win back business travelers, while renegotiating labor and jetliner contracts to put the airline's costs below those of its rivals.
In his 1998 book "From Worst to First," Bethune referred to a toxic atmosphere that pervaded Continental before he arrived. As CEO, he "could walk down through the terminal, he could walk down the ramp, and he would remember employees by name," Garcia said.
With Munoz getting back to work, he'll need to do more than remember names and chat up workers. For all the goodwill he's garnered, one group of workers is refusing to take United's side against the activist investors.
The International Brotherhood of Teamsters - which represents more than 9,000 United mechanics - said Friday it is staying neutral in the fight and wants to see what each side offers. Members of the Teamsters recently shot down a company proposal on a new labor agreement and are threatening to strike.
"Before the Teamsters Union supports either slate, we demand they make transparent their plans for the future of United Airlines," said Capt. David Bourne, director of the Teamsters Airline Division.
Before it's here, it's on the Bloomberg Terminal.
LEARN MORE