Canyon Nominates Three Directors in Proxy Fight with Ambac
by
Arnold, Brecker and Davis nominated to Ambac board by Canyon

Hedge fund cites Ambac's 42 percent share decline last year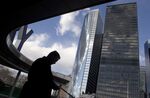 Hedge fund Canyon Capital Advisors nominated three directors to the board of Ambac Financial Group Inc., launching a proxy fight against the bond insurer. 
Canyon Capital is backing Frederick Arnold, chief financial officer of ConvergEX Group, John Brecker, co-founder of Longacre Capital Management and former board member of bond insurer ACA Financial Guaranty Corp, and Eugene Davis, chairman and chief executive of PIRINATE Consulting Group, for the board.
Canyon, which owns almost 5 percent of Ambac's shares, has voiced concerns about a 42 percent decline in the bond insurer's stock price last year under chief executive Nader Tavakoli. The Los Angeles-based hedge fund wants to speed up the commutations of troubled residential mortgage-backed securities, credit default swaps and student loans.
"Rather than proactively address those concerns, however, the incumbent board has remained steadfast in its commitment to maintaining the status quo," Canyon Capital said in a news release. "Thus, notwithstanding the 42 percent decline in Ambac's stock price under his interim leadership in 2015, the board decided to appoint Nader Tavakoli as the company's permanent President and CEO."

Canyon says Ambac needs to deploy its capital to pay off policy claims. Ambac says Canyon is conflicted because it is also a policyholder. The bond insurer estimated Canyon owns Ambac notes and Ambac-insured residential mortgage backed securities worth $376 million, more than ten times Canyon's $36 million equity stake.
"Canyon's campaign to place its hand-picked candidates on the Ambac board is a thinly veiled maneuver designed to accelerate payments on its own creditor position, regardless of the consequences for the company, other creditors and shareholders," Ambac said in a news release.
Ambac shareholders will get the opportunity to vote on the slate at the company's May 12 annual meeting. The company Monday said it intended to add up to two new independent directors to the board.
"We are well along in the process of vetting highly qualified candidates and expect to announce the outcome shortly," Ambac Chairman Jeffrey S. Stein, said in a news release. "We are confident that the expansion of the board with up to two new independent directors will build on the momentum reflected in Ambac's strong 2015 results."
Last month, Ambac reported the company generated $1.2 billion of operating earnings and more that tripled in 2015 its adjusted book value per share to $24.78 from $7.50. Ambac bought back $235 million of insured securities in the fourth quarter and in January reported it would receive $955 million from JPMorgan Chase & Co. to resolve claims that the company was duped into insuring mortgage bonds backed by shoddy loans.
Ambac's shares are up 14 percent this year. The stock fell 25 cents, or 1.5 percent, to $16.06 at 2:23 p.m. in New York.
The insurer filed for Chapter 11 bankruptcy protection in November 2010 to reschedule payments on more than $1 billion of bonds and other claims. It exited bankruptcy in May 2013.
Before it's here, it's on the Bloomberg Terminal.
LEARN MORE