Brazil Congress to Revive Impeachment After Record Protests
Anna Edgerton and Raymond Colitt
Lower house may start forming impeachment committee this week

Biggest coalition partner is threatening to abandon Rousseff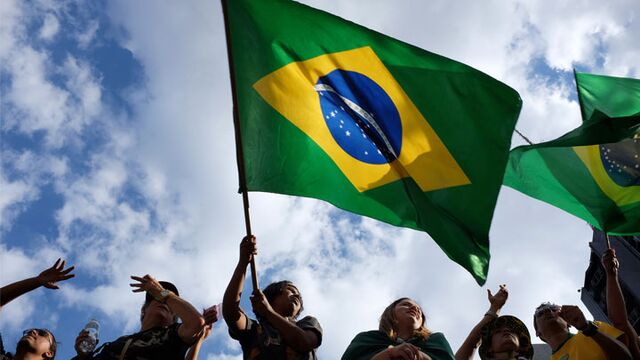 Legislators are gearing up to revive Brazil's stalled impeachment process as early as this week after millions of people on Sunday demanded the ouster of President Dilma Rousseff.

Lower house speaker Eduardo Cunha said he would call for the creation of a congressional committee tasked with issuing a recommendation on impeachment the day after the Supreme Court issues new guidelines on the process. The top court is expected to make its decision on Wednesday.
"I'll move the process along quickly once the rules are clarified," Cunha wrote in a text message, adding that he could even call a meeting for Friday. That would be an unusual move in a parliament that's usually only in session from Tuesday through Thursday.
Support for Rousseff began crumbling in Congress in recent weeks after fresh allegations drew her Workers' Party deeper into a two-year corruption scandal over kickbacks at state-run oil company Petrobras. Nationwide protests on Sunday, the largest on record, are likely to prompt more legislators to reconsider their support for Rousseff, potentially speeding up her ouster, said political analyst Ricardo Ribeiro.
"After months of dilly-daddling, we're reaching a make-or-break point for Dilma," said Ribeiro, who works at MCM business consulting firm in Sao Paulo. "And more and more legislators are thinking she won't make it."

Massive Turnout
The real lost against the U.S. dollar on Monday and the Bovespa stock exchange fell, as a drop in commodity prices offset investor optimism that impeachment could pave the way for a government with a stronger mandate.
Rousseff's Chief-of-Staff Jaques Wagner said Monday that investors are wrong about impeachment, as it wouldn't resolve the country's economic problems. He said critics of Rousseff in Congress need to work with the government toward a solution.
To that effect, the administration is considering whether to appoint the president's mentor and predecessor Luiz Inacio Lula da Silva as a minister. That would give her an ally with strong ties in Congress and shield Lula from corruption investigations, given that only the Supreme Court can authorize a Cabinet member's imprisonment.
Handing Lula the job may give the government more time to defend itself in Congress, "but for what?" said Harold Trinkunas, senior fellow at the Brookings Institution. "Certainly not enough time to turn around the economy or regain broad levels of support."
Massive Turnout
The massive turnout for Sunday's protests indicate Rousseff's political demise will arrive faster than previously forecast, political risk consulting firm Eurasia Group wrote in a research note. Eurasia analysts Christopher Garman, Joao Augusto de Castro Neves and Cameron Combs now say Rousseff probably will be impeached by May.
QuickTake Brazil's Ups and Downs
Military police estimate at least 3.6 people demonstrated on Sunday, while event organizers put the number at 6.9 million. Polling firm Datafolha said the demonstrations in Sao Paulo exceeded those for general elections before the fall of Brazil's 21-year military dictatorship in 1985.
Still, there are no guarantees that the the lower house won't get bogged down like it did after Cunha opened the process in early December. Discussions over impeachment last year triggered shoving matches, ransacking of congressional voting booths and court appeals that froze proceedings.
Also, it's unclear whether a Rousseff replacement would have a clear mandate. Vice President Michel Temer of the coalition PMDB party, who would take over if she were impeached, also could fall if the country's top electoral court finds that money from graft financed their joint re-election in 2014. The court opened a probe into the matter last year, though the Rousseff administration denies any wrongdoing.
"The post-Dilma scenario remains a big question mark," said MCM's Ribeiro.
Government Alliance
The leading opposition party, known as the PSDB, doesn't expect the electoral court to shoot down Temer and probably would support him in Congress if he were to take over the top job, said Thiago de Aragao, partner and director of strategy at political-risk consulting company Arko Advice. De Aragao says he speaks regularly with lawmakers.
The PMDB, which is the largest party in Congress, set a 30-day deadline during the convention to re-evaluate its alliance with the Rousseff administration, including the option to leave the coalition ahead of voting on impeachment.
"The PMDB doesn't partake in the government's way of managing politics and the economy," PMDB Senator Romero Juca wrote on his Twitter account Monday.
Signs that the PMDB could be jumping ship and its growing contacts with opposition leaders are unnerving government supporters.
"Until last week I thought there was still some chance of salvation," said Humberto Costa, a senator from Rousseff's Workers' party.
Before it's here, it's on the Bloomberg Terminal.
LEARN MORE