markets
Japan Looks Set to Hold Off on Even Lower Rates - For Now
By
Analysts see BOJ waiting while digesting negative-rate impact

Kuroda has reasons he could point to for taking action now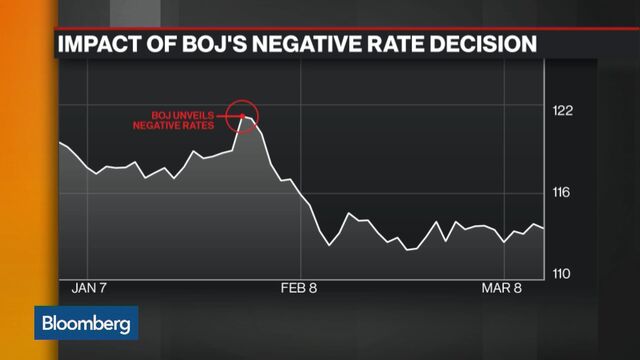 The Bank of Japan will conclude a two-day policy meeting Tuesday on the heels of its decision in January to adopt a negative-rate strategy, with most economists expecting the bank's board to wait before approving more monetary stimulus.
While only five of 40 economists surveyed expect further easing at this meeting, Governor Haruhiko Kuroda surprised them and markets with his Jan. 29 decision on negative rates. Eighty-eight percent of economists in the poll forecast more action by the end of July.
QuickTake Negative Interest Rates
Still, if Kuroda wants to make a back-to-back move, there are plenty of reasons he might have for doing so:
The BOJ is far from its 2 percent inflation goal, with changes in core consumer prices hovering around zero since mid last year. 
Japan's economy contracted in the final quarter of 2015 and sentiment among consumers and merchants has fallen.
And while he might not want to point to this directly, it hasn't gone unnoticed at the BOJ that the yen has appreciated since the start of the year.
The board's policy announcement typically comes between noon and 1 p.m., right after the meeting ends, and is followed by Kuroda's press conference at 3:30 p.m.
Here are some things to watch for:
When Is the Next Move?
Kuroda and his deputy Hiroshi Nakaso, who used to head the financial markets department, have said the BOJ needs time to gauge the impact of the -0.1 percent rate policy. The strategy -- under which financial institutions are charged on some of their reserves held at the BOJ -- was announced in January and took effect Feb. 16. Investors are looking for clues as to how long the BOJ will wait and what signs it needs to act again.
"For now, the BOJ has an excuse, saying they want to examine the effects of negative rates. In addition to signs of calmness in markets, chances of further easing in March or April have dropped," said Hiroshi Hanada, the head of economic research at Sumitomo Mitsui Trust Bank Ltd.
While the negative rate is grabbing all the headlines, purchases of Japanese government bonds remain at the heart of Kuroda's monetary strategy. Watch for any hints about changes here, and for other assets including exchange-traded funds and Japanese real estate investment trusts.
Kuroda may repeat at Tuesday's press conference that he won't hesitate to adjust policy if needed. If he's more specific, expectations for further easing in coming months could be more concrete. Something Kuroda will likely keep in mind before deciding on further action is that negative rates haven't been welcomed by the Japanese public -- 53 percent disapproved of the strategy in a recent poll conducted by the Nikkei newspaper.
What the public thinks is also very important for Prime Minister Shinzo Abe, with an election for the upper house of parliament set for this summer.
What's Happening With Prices and the Economy
Japan's economy contracted in two of the past three quarters, and sentiment among consumers, merchants and businesses has slumped. Core consumer prices didn't budge in January, remaining far from BOJ's 2 percent inflation target. Exports in January dropped the most since 2009, with those to China -- its largest trading partner -- down almost 18 percent.
Any downgrade of the economic assessment in the BOJ's policy statement could indicate a view from Kuroda and the board that risks are tilted to the downside.

Sales Tax Talk
Japanese lawmakers have been peppering Abe with questions in the parliament on his planned sales tax increase in 2017, with one of his advisers recommending another delay. The last hike, in 2014, sent the economy into a recession. Some economists thought Kuroda, a former director of the tax bureau at the finance ministry, expanded stimulus in October 2014 to send a message for Abe to raise the tax. The same is possible again.
Kuroda has said the impact of the next sales tax increase will be about a half of what it was in 2014, suggesting that he doesn't think it would be wrong to raise it as planned. If his rhetoric changes on the tax, that may be an indication that Kuroda is going to bolster stimulus before Abe makes a decision on the tax hike. Abe is starting a series of meetings Wednesday with economic experts including Nobel laureate Joseph Stiglitz.
Any Tinkering of Negative Rate Policy
BOJ's negative-rate strategy already has had some visible impact on money markets. Market participants will be watching for any fine-tuning of the policy to reduce adverse effects.
All 11 companies running money-market funds in Japan have stopped accepting new investments, citing the negative rate move. Money from the funds is moving to deposits, according to analysts at Deutsche Bank. Deposit returns are still positive, if negligible.
Money reserve funds, which are pools used by brokerages to park their cash, are under pressure as the negative-rate squeezes their margins. Japan Securities Dealers Association Chairman Kazutoshi Inano said his group has asked the BOJ to exclude money reserve funds from the negative rate, and has not yet received a response.
Before it's here, it's on the Bloomberg Terminal.
LEARN MORE