Anbang Is Splashiest of China Buyers in Property Deal Spree
Bloomberg News
Real estate acquisitions so far almost half of 2015 total

China Overseas, Vanke among Chinese firms adding property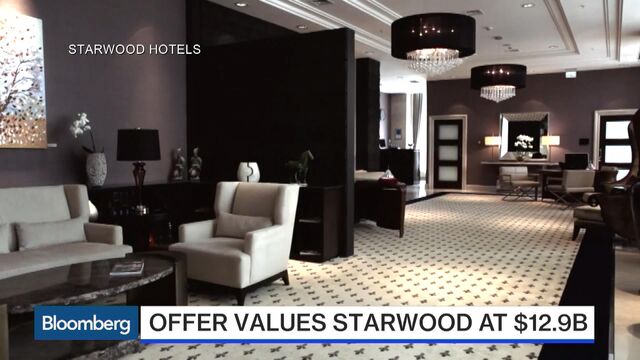 Anbang Insurance Group Co. is the most visible of Chinese companies that have embarked on a flurry of property-related acquisitions, suggesting last year's record dealmaking didn't satisfy their appetite for real estate assets.
The acquisitive Chinese insurer agreed to pay $6.5 billion for 16 U.S. luxury resorts and hotels from Blackstone Group LP, according to people with knowledge of the matter, a record sum for a Chinese buyer of American real estate. The insurer on Monday also emerged as the leader of a consortium bidding for Starwood Hotels & Resorts Worldwide Inc., in a deal that values the hotel chain at about $12.9 billion.
China's biggest investors are looking for high-yielding assets to park their money as economic growth is slowing. China Overseas Land & Investment Ltd. and China Vanke Co. announced purchases worth as much as a combined $14 billion over the past two days in Asia's biggest economy, as property prices in the nation have soared and the competition for land intensifies. Excluding the Starwood bid, which may include a group of global buyers, the recent transactions would take the value of Chinese property acquisitions so far in 2016 to almost $25 billion, nearly half of last year's total, Bloomberg-compiled data show.

At home, the investors are seeking to acquire real estate as land prices in the biggest cities have soared thanks to six interest cuts since November 2014 and moves by regulators to ease property curbs. Abroad, they're buying trophy assets in big markets, where they expect to see steady gains.
"Almost all assets are seeing falling yields with the interest rate cuts and policy easing," making real estate a good option, Alan Jin, a Hong Kong-based real estate analyst at Mizuho Securities Asia Ltd., said in an interview. "The acquisitions will continue, at least as long as the backdrop of sustained easing remains."
Vanke on March 13 signed a memorandum of understanding with Shenzhen Metro Group Co. to acquire a stake in a unit estimated at 40 billion yuan ($6.1 billion) to 60 billion yuan. While the bid will help Vanke thwart a potential hostile takeover bid from its largest shareholder, it will also give it access to property projects above subway stations in the Chinese city with the biggest explosion in real estate prices. Shenzhen property prices surged 52 percent in the year ended January, compared with 18 percent for Shanghai and about 10 percent for Beijing.
'Highly Beneficial'
At a press briefing in Hong Kong on Monday, Vanke's Senior Vice President Tan Huajie said that adding to land investments is the company's key business focus for 2016, given an increase in prices.
China Overseas said it will buy the Chinese residential property assets held by Citic Ltd. for about 31 billion yuan, as it expands its presence across the nation's cities. The 24 million square meters (258 million square feet) of land being acquired, equivalent to more than half of China Overseas' existing land bank as of June 30, will be "highly beneficial" to the company's future development, China Overseas said in a statement Monday.
China Overseas' transaction, which spans properties in 25 cities, provides an opportunity for the company to "enhance its nationwide land reserve across various economic regions," the firm said in the statement.
Anbang's pending acquisition of Strategic Hotels & Resorts Inc. will give it ownership of assets including urban hotels, and mountain, desert and ocean resorts. The transaction comes on top of Anbang's $1.95 billion purchase last year of New York's iconic Waldorf Astoria hotel.
Starwood Hotels, which is being bought by Marriott International Inc., received a separate, unsolicited takeover proposal from a group of companies led by Anbang, the company said March 14. While Starwood didn't identify the bidder in its statement, Marriott said Anbang led the group's offer in a separate announcement in which it confirmed its plan to buy Starwood.
More deals are in the works, according to Paul Guan, a Hong Kong-based partner at Paul Hastings LLP, who said he and colleagues at the law firm have been "fairly busy this year" advising Chinese insurers looking to buy overseas property assets that match their long-term liabilities. Guan worked on China Life Insurance Co.'s co-investment with Global Logistic Properties Ltd. on the latter's $4.55 billion purchase of U.S. logistics assets last year.
"People are quite firm now about the trend of a weakening yuan," making dollar-denominated assets a promising alternative for the longer term, he said by phone, declining to give details on current clients. "Chinese investors' interest in overseas property remains very strong" even though regulators are now not very supportive of capital outflows. 
"We're fairly positive that there will be more deals this year and next, not less," he said.
— With assistance by Dingmin Zhang, and Emma Dong
Before it's here, it's on the Bloomberg Terminal.
LEARN MORE