Anbang Expands U.S. Hotel Foray With Record $6.5 Billion Deal
by
Strategic Hotels purchase tops Waldorf Astoria acquisition

Chinese insurer to gain properties from San Diego to Manhattan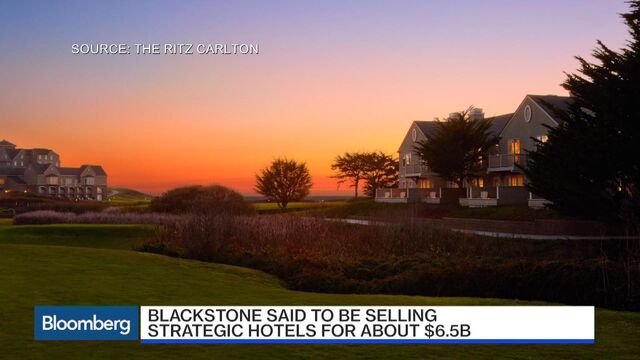 Anbang Insurance Group Co.'s $6.5 billion agreement to buy 16 U.S. luxury resorts and hotels from Blackstone Group LP marks a record transaction for Chinese buyers of American real estate, showing the strong appetite for high-profile properties viewed as stable investments.
The pending acquisition of Strategic Hotels & Resorts Inc. will give Anbang ownership of trophy properties across the country, including urban hotels and mountain, desert and ocean resorts. It tops the Beijing-based insurer's $1.95 billion purchase last year of New York's landmark Waldorf Astoria hotel as the biggest U.S. real estate deal by a Chinese buyer, according to data from Real Capital Analytics Inc.
Blackstone, which completed its acquisition of Strategic Hotels just three months ago, had been seeking buyers for individual properties in the portfolio when Anbang offered to purchase the entire company, according to people with knowledge of the matter. The Chinese firm agreed to pay $450 million more than the roughly $6 billion that Blackstone paid, including debt, said the people, who asked not to be identified because the deal is private.
"It's a great long-term play for Anbang and a good short-term move by Blackstone,'' said Sonny Kalsi, a founder and partner of GreenOak Real Estate, a private equity firm that manages more than $6 billion. "A true win-win."
Christine Anderson, a spokeswoman for Blackstone, declined to comment on the deal, as did Philip Yee, a managing director at Anbang's North American unit.
Foreign investors have been betting on U.S. real estate as a safe place to park money while earning higher yields than they might in alternative investments with a similar amount of risk. They are attracted to the steady gains in the U.S. economy when growth in China is slowing, and prestige buildings in major North American markets have been a big draw.
Hotel Deals
Several Chinese companies were said to be pursuing bids for Starwood Hotels & Resorts Worldwide Inc., which Marriott International Inc. eventually won. Shanghai Jin Jiang International Hotels Group Co. last year bought Groupe du Louvre for 1.3 billion euros ($1.45 billion) to gain hotels in 46 countries. China's Sunshine Insurance Group last year bought New York's luxury Baccarat Hotel for about $230 million.
"U.S. trophy assets continue to be in high demand by offshore investors, both Asian and Middle Eastern," said Gilda Perez-Alvarado, a managing director at commercial brokerage Jones Lang LaSalle Inc. "This is being driven by global market volatility, the continued strength of the U.S. dollar and increased allocations for commercial real estate in an effort to diversify investment portfolios."
The Strategic Hotels properties include the Ritz-Carltons Half Moon Bay and Laguna Niguel in California; the Montage resort in Laguna Beach, California; Four Seasons hotels in Austin, Texas, Silicon Valley and Washington; and InterContinental hotels in Chicago and Miami.
It also includes the Hotel del Coronado, an oceanfront resort near San Diego that was featured in the 1959 movie "Some Like It Hot" with Marilyn Monroe, Jack Lemmon and Tony Curtis. Blackstone had invested in the property in 2011 before selling its stake to Strategic about three years later.
Another property is the JW Marriott Essex House, the Manhattan hotel near Central Park known for the red-lettered sign on its roof. Strategic's predecessor company bought the hotel in 1999 from Japan Airlines amid a wave of Asian investors unloading trophy hotels they had bought during stronger economic times back home. Strategic later sold the hotel in 2005 to Dubai Investment Group, which then resold it to a group including Strategic in 2012.  
"Anbang have shown themselves as really liking trophy assets,'' Kalsi said. "The Strategic Hotels portfolio is very complementary to the Waldorf."
The purchase shows lodging deals are picking up from a sluggish start this year. Hotel transactions "could surprise to the high side" in 2016, Louis Stervinou, a managing director at real estate investment bank Eastdil Secured, had said during a January panel discussion at the Americas Lodging Investment Summit in Los Angeles.
Slowing Growth
Demand for such properties should continue even as China's economy and U.S. hotel revenue slow, Kalsi said.
Hotel revenue per available room in the U.S. is projected to slow to about 5 percent growth in 2016 from 6.3 percent last year and 8.1 percent in 2014, according to STR, an industry research firm. Rising construction in some cities including New York, the third-largest U.S. hotel market after Las Vegas and Orlando, Florida, has caused revpar to decline in recent months.
"Although I think we will generally see a cyclical slowdown of capital from China given the capital controls, I do think insurance companies in particular will continue to be active, especially for trophy assets,'' Kalsi said.
Beyond acquiring the Waldorf Astoria, Anbang has also struck deals to buy office properties in New York and Canada, and to acquire Delta Lloyd NV's Belgian banking unit, while also investing in insurers in South Korea and Belgium. In November, it agreed to buy Fidelity & Guaranty Life in the U.S.
Chinese acquisitions of U.S. assets have drawn scrutiny from regulators. Chongqing Casin Enterprise Group's pending purchase of the Chicago Stock Exchange is currently being reviewed by the Committee on Foreign Investment in the U.S., the panel that also looked at Anbang's purchase of the Waldorf Astoria. President Barack Obama opted not to stay at the Waldorf after it was sold, breaking a tradition of U.S. presidents for eight decades.
Before it's here, it's on the Bloomberg Terminal.
LEARN MORE