'Brexit' Backers Furious Over Report of Obama Intervention
By
Johnson and Grayling urge president to stay silent over EU

Obama due to visit Britain in April, Independent reports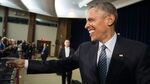 Campaigners who back getting Britain out of the European Union told Barack Obama to mind his own business after a report he planned to urge the country to stay within the bloc.
The Independent on Sunday reported that Obama will visit the U.K. in April, citing unnamed U.K. officials. It said he planned a "big, public reach-out," citing Republican Senator Bob Corker, chairman of the Foreign Relations Committee, a frequent critic of Obama. With both sides in the EU referendum campaign trying to recruit big, trusted names to their side, there's none bigger than the U.S. president.
That was reflected in the strength of response from those backing a so-called "Brexit" following the referendum on June 23. London Mayor Boris Johnson devoted his column in the Daily Telegraph newspaper to the subject on Monday. The U.S., he said, was "urging us down a course they would never dream of going themselves," and that is defends its own sovereignty with "hysterical vigilance."
Later, Chris Grayling, the leader of the House of Commons, told lawmakers he "would discourage any foreign leader from entering the debate."
The White House press secretary, Josh Earnest, refused to confirm Obama will visit the U.K., while saying there were likely to be extra stops on a planned trip to Germany.
"Our position has been that the United States deeply values a strong ally in the U.K. as a part of the EU," Earnest told reporters Monday. "We'll continue to make clear that is our point of view. The British people are going to decide."