German Divisions Over Merkel's Refugee Policy Laid Bare in Votes
by , , and
Anti-immigration AfD party surges to record in three elections

Bavarian CSU's Michelbach calls for `change of course'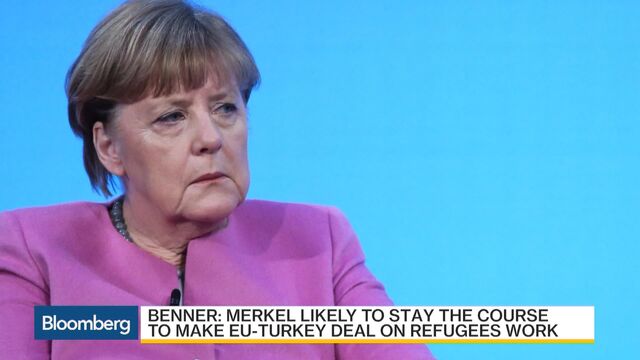 Chancellor Angela Merkel faces an increasingly splintered political landscape after voters punished her party and lifted the anti-immigration Alternative for Germany to its best showing yet in three state elections dominated by the refugee crisis.
Support for Merkel's Christian Democratic Union tumbled across the board Sunday as her candidates failed to capture two western states including Baden-Wuerttemberg, home to carmaker Daimler AG. Her party hung on to win the most votes in Saxony-Anhalt in the formerly communist east, though Alternative for Germany, or AfD, upended the coalition math there by winning 24.2 percent support in its first attempt in the state.
While Merkel didn't make the rounds of evening talk shows, CDU party officials signaled she won't renounce her stance of fighting for open travel and commerce within the European Union and a deal with Turkey to stanch the flow of refugees from war-torn Syria. Merkel chaired a meeting of her party's national leadership on Monday to assess the election results and will hold a news conference at 1:15 p.m. in Berlin.
Calls for a change of course emerged from within her party ranks Monday, with her chief antagonist, Bavarian Premier Horst Seehofer, saying the outcome was "a tectonic shift in the political landscape" that put the Union parties in doubt. "We can't simply go on as before," Reiner Haseloff, the CDU premier of Saxony-Anhalt, told reporters in Berlin. "We need to consider quickly how we can win voters back."
While the election outcome adds to the unease in Merkel's camp about her migration policies, "even this protest vote is unlikely to put her job as chancellor at risk," said Holger Schmieding, Berlin-based chief economist at Berenberg Bank. "Whereas the debate about migration in Germany could get more noisy near-term, by far the most likely scenario remains that Merkel stays in office until the next federal election in September 2017 –- and probably beyond."

The triple contest, dubbed Super Sunday by some German media, was the biggest of Merkel's third term and the broadest electoral test before the next federal ballot in 18 months' time. Though voters cast their ballots for regional legislatures, surveys showed the biggest concern to be Europe's refugee crisis and its impact on Germany after about 1 million asylum seekers, the most since World War II, arrived last year.
That fueled the expansion of the AfD, which won 15.1 percent in Baden-Wuerttemberg and 12.6 percent in Rhineland-Palatinate, the third state voting Sunday, according to preliminary official results.
"None of the established parties with seats in the Bundestag had a particularly good night," Michael Grosse-Broemer, parliamentary whip for Merkel's party bloc in the federal parliament, said on ARD television, dismissing the AfD as a "protest party." Steffen Seibert, Merkel's chief spokesman, told reporters on Monday that the government "will put all of its energy into pursuing its course on refugee policy."
"We have already achieved a lot," Seibert said. "A lot remains to be done."
The CDU fell to its worst result of the postwar era in Baden-Wuerttemberg, compounding the party's shock at its loss to the Greens in 2011 after more than half a century governing the state. The chancellor's problem is that polls suggested her party had a lock on all three states as recently as last fall, before the impact of the refugee crisis on Germany upended the contest.

'No Alternative'
While "particularly disappointing" for the CDU, the results allow Merkel to blame regional party leaders who criticized her migration policy and lost, while affording her some ammunition against her internal critics, said Carsten Nickel, Brussels-based analyst at researcher Teneo Intelligence.
"Certainly it's going to put her under increasing pressure," Nickel said by phone. At the same time, "she's not going to step down," he said. "It does look counterintuitive after these results, but there's simply no alternative to her within her party."
European Crises
The refugee issue is reverberating around the European Union, replacing the euro-area's debt woes as the most significant in a series of crises chipping away at the EU's political and economic cohesion. Bitter disagreements between capitals are stoking fears that border-free travel and commerce -- one of the EU's signature achievements along with the single currency -- will be suspended. An associated rise in populism is eroding support for established parties across the bloc, making coalition-building increasingly difficult from Spain to Ireland.
The AfD, which has now won seats in eight of the country's 16 regional assemblies, shows that Germany is no longer immune to the allure of right-wing populism.
"We have fundamental problems in Germany that led to this outcome," Frauke Petry, the party's co-leader, told ARD television in an interview. "Now we want to force the other parties into a substantive debate."
Influx Waning
Merkel closed her campaign in Baden-Wuerttemberg on Saturday with a defense of her refugee policy, saying she was pleased that the refugee influx to Germany is decreasing. With EU leaders due in Brussels on Thursday for their second meeting in two weeks on an aid accord with Turkey, she said the 6 billion euros ($6.7 billion) requested by the government in Ankara is worth the price to help dissuade refugees from making the dangerous crossing over the Aegean to Greece.
Sunday's elections "will not predict the results of the 2017 federal elections, but they signal the extent to which establishment parties are struggling to maintain unity under the strain of the refugee crisis," Emily Hruban of the Washington-based Bertelsmann Foundation, said in a research note before the voting. "Until other EU states take on responsibility and show solidarity on the issue, Merkel will continue to face a fragmented and volatile political landscape at home."
Before it's here, it's on the Bloomberg Terminal.
LEARN MORE