Labour Party Member Named to Lead Campaign for U.K. Exit From EU
by
Gisela Stuart to replace ex-Conservative leader Nigel Lawson

U.K. Independence Party spokeswoman joins Vote Leave board
Vote Leave, the official group campaigning to get Britain out of the European Union, named German-born Labour Party lawmaker Gisela Stuart as its chair, replacing former Tory Chancellor of the Exchequer Nigel Lawson.
The new board will also include U.K. Independence Party spokeswoman Suzanne Evans, Vote Leave said in a statement on Sunday.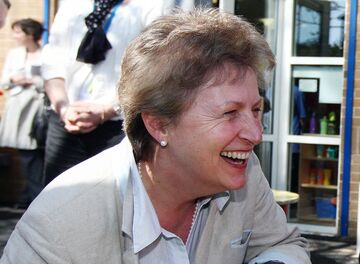 "If we Vote Leave we will be able to spend our money on our priorities like the NHS," Stuart said, referring to the National Health Service. "I would encourage people from all campaigns and none to join up with our campaign today."
The action will help the group counter accusations of being the establishment movement for "Brexit" and ignoring the concerns of ordinary voters. It has already been bolstered by the support of senior Conservative party figures, including Justice Secretary Michael Gove and London Mayor Boris Johnson. 
Gove will co-convene the group's campaign committee with Stuart, Vote Leave said. The U.K. will hold a referendum on EU membership in June.
Before it's here, it's on the Bloomberg Terminal.
LEARN MORE