Ivory Coast Boosts Security After al-Qaeda Attack Leaves 21 Dead
by , , and
Assault is third on hotels in West Africa since November

Seaside town is popular weekend getaway, close to Abidjan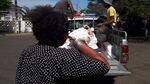 Ivory Coast increased security in its commercial capital, Abidjan, and tightened its borders after militants linked to al-Qaeda led an attack on hotels popular with foreigners on Sunday.
Gunmen killed 15 civilians and three soldiers in Grand Bassam, Interior Minister Hamed Bakayoko told reporters in Abidjan on Monday. Three attackers died, he said. The government had previously said six assailants were slain. Al-Qaeda in the Maghreb and al-Mourabitoune claimed responsibility for the attack in a statement to al-Akhbar, a Mauritanian newspaper.
Ivory Coast, the world's biggest producer of cocoa, has been on high alert since November, when al-Qaeda-linked insurgents stormed into a luxury hotel in Mali and seized hostages. That assault left 22 people dead. The militants pledged to continue targeting French interests and carried out a similar raid in neighboring Burkina Faso in January that left 30 dead, many of them foreigners.
Sunday's attack is the first by Islamist militants in Ivory Coast, the biggest economy in French-speaking Africa and a country with one of the largest populations of French citizens in the region. Grand Bassam, about 30 kilometers (19 miles) east of Abidjan, is a former colonial capital and popular as a weekend getaway, with more than a dozen restaurants and hotels overlooking the beach.
"This is one of the furthest reaches of al-Qaeda in the Islamic Maghreb that we've seen," Cailin Birch, a political analyst at the Economist Intelligence Group, said by phone. "For the moment the violence has really focused on French-speaking countries with a proximity to Mali, which allows for an easier cross-border flow of small groups of fighters."

Islamist fighters have established bases in northern Mali since a coup left a temporary power vacuum in 2012. When they threatened to overrun the capital, Bamako, French President Francois Hollande sent thousands of soldiers to push back the insurgents, who benefited from weapons looted from Libyan stockpiles after the ouster of Moammar Qaddafi the previous year.
Before it's here, it's on the Bloomberg Terminal.
LEARN MORE