Rajan Seeks Global Color-Coded Rules to Rate Monetary Policy
by
Policies would be rated green, orange or red by global panel

Discussion may lead to IMF changes, new international deal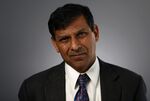 Indian central bank Governor Raghuram Rajan called for a new set of international rules to assess monetary policy that includes using color codes to rate how beneficial measures are to global welfare.
Rajan, speaking at an International Monetary Fund meeting in New Delhi, said policies seen as good for the world should be rated green, while those that should be used temporarily would be classified orange. Policies that should be avoided at all costs would be rated red, he said.
Rajan called for a group of "eminent academics with reasonable representation across the globe" to analyze and grade various policies. They would then be discussed at global forums such as the Group of 20, and eventually lead to possible changes of IMF rules or a new international agreement.
"The international community has a choice," Rajan, a former IMF chief economist, said on Saturday, according to prepared remarks. "We can pretend all is well with the global financial non-system and hope that nothing goes spectacularly wrong. Or we can start building a system for the integrated world of the 21st century."
'It's Complicated'
Rajan has been an outspoken critic of unconventional monetary policy, and has publicly clashed with former Federal Reserve Chairman Ben Bernanke on how much coordination is needed between global central banks. His speech on Saturday sought to further that discussion with concrete proposals.
"Given the importance of spillovers from monetary policies, especially in the face of globally low inflation, it is important we start building a global consensus on how to get better outcomes for the world," Rajan said. It would take time to develop given that economic analysis of these policies is at an early stage and many central banks have domestic mandates, he said.
To start, global experts could look to develop a system that rates policies according to spillovers and their consequences, Rajan said. As time goes by, authorities in different countries would have to explain why their policies should be rated green, he said.
"Bottom line, it's complicated," Rajan said. "But that doesn't mean we shouldn't start discussing it."
Here are some more details on the color codes as outlined by Rajan:
Green:
Policies that have positive effects on both home and foreign countries
Conventional monetary policy would typically fall in this category
Green policies assume that financial stability risks from low interest rates are limited
Policies that act as a booster shot to large economies, and the growth effect offsets any negative spillover
Orange:
Policies with large positive effects on originating country and small negative effects for the rest of the world
Conventional monetary policy to raise growth in home country that has high financial stability risks
Red:
Likely to have net adverse outside spillovers over time
Unconventional monetary policies that lead to feeble recovery in source country, but large capital outflows and asset price bubbles in emerging markets
Before it's here, it's on the Bloomberg Terminal.
LEARN MORE