New China Stocks Chief Vows Decisive Intervention If Needed
Bloomberg News
CSRC chairman says 2015 stabilization avoided further panic

Liu says no timeline for rescue fund to exit the market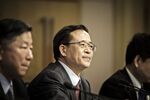 China's new stock regulator vowed to step in "decisively" if needed to stem the sort of stock-market panic that resulted in a $5 trillion wipeout last summer, adding that it was far too early to think about the state rescue fund leaving the market.
China Securities Regulatory Commission Chairman Liu Shiyu wouldn't give a time line on government plans to speed up initial public offerings. He defended the government's decision to intervene last year, saying the move bought leaders time to restore a "dysfunctional" market and headed off bigger threats to the financial system.
"Under such a situation of panic, if we didn't act decisively, could the impact not be huge?" Liu said at the briefing, held on the sidelines of China's annual legislative session. "It would certainly have led to even greater panic and systemic financial risks."
Liu was responding to questions at his first briefing since replacing Xiao Gang, who was widely criticized for his handling of last summer's rout and oversaw the failed introduction of a market circuit-breaker mechanism in January. Liu's remarks signaled the market won't be flooded with new shares or any of the stakes that China Securities Finance, the state rescue fund, snapped up to stem the rout.
Liu, formerly chairman of Agricultural Bank of China, joked that he'd only been CSRC chairman for 22 days. He said there are "lessons to be learned" from the circuit-breaker issue and the country won't be ready for such a system for years. Yet he also avoided detailed criticism of CSRC moves before he arrived, particularly during the time of the market collapse.
"The impact of the slumping stock index on the financial market at the time was like an oil tanker truck whose engine was not working as it went down a steep road," he said. "In a less severe scenario, the truck might be destroyed and the driver die. In the worst case it could lead to forest fire and threaten innocent lives."
Asked about plans to proceed with an IPO-registration system, something Premier Li Keqiang mentioned in his annual reports to China's legislature in 2014 and 2015 but not this year, Liu said such a system was necessary but would take time. He declined to elaborate. A registration-based system for IPOs would end CSRC intervention in pricing and allow companies to go public quicker.
He said it was too early to talk about China Securities Finance exiting the market. Last August, the CSRC said the fund will remain in the market for years to come. The fund now has stakes in almost 600 publicly traded companies, according to data compiled by Bloomberg.
"To be frank, I have not given any thought to this," Liu said. "It will be too early to talk about CSFC exiting from market for a relatively long time."
— With assistance by Tian Chen, and Aipeng Soo
Before it's here, it's on the Bloomberg Terminal.
LEARN MORE