Arrest Warrant Sought for Lula as His Protege Is in Trouble
by , , and
Prosecutors seek preventative arrest of former president

Signs are emerging that Brazil ruling coalition could splinter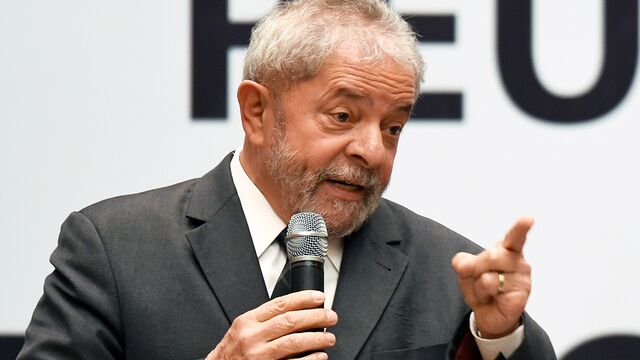 Once again, Brazil's embattled President Dilma Rousseff finds herself scrambling to stay in power.
In just the past seven days, the long-running saga over Rousseff's political future has deteriorated markedly, culminating on Thursday in a request by prosecutors to place her predecessor and mentor, Luiz Inacio Lula da Silva, under preventative arrest.

Brazil's financial markets, battered for months by a brutal economic slowdown and a seemingly endless run of corruption scandals, on Thursday reflected a growing sense that Rousseff may not survive politically. With fresh accusations emerging that kickbacks from state oil company Petrobras helped finance her re-election, government critics are gearing up for street demonstrations this weekend while her allies are starting to jump ship ahead of an impeachment vote in Congress.
"Day after day her chances of survival are plummeting," said Andre Cesar, a political analyst and founder of consulting company Hold Assessoria Legislativa. "The barrage of accusations, allies turning their back, the prospect of popular protest -- it may all become too much for her."
Pressure Building
Pressure started building with the arrest of Rousseff's campaign strategist last month and the publication of allegations that she tried to interfere in corruption probes. The political crisis hit a new high with Lula's brief detention March 4, deteriorating even further this week as state prosecutors sought a court order for his temporary arrest. Both Rousseff and Lula have repeatedly denied wrongdoing.

The Lula Institute accused the state prosecutor of abusing his power for
political ends, adding that there's no reason to imprison Lula before giving
him a chance to respond to the allegations. It reiterated that Lula has done nothing illegal.
The turmoil is further eroding the administration's fragile support base in Congress, where Rousseff will need all backing she can muster as the opposition steps up pressure to revive the impeachment process that stalled in December.
Senate leaders from Rousseff's biggest coalition partner, the PMDB, are pushing their colleagues in Congress to announce their independence from the government at their convention Saturday, according to two people with direct knowledge of the discussions. A smaller party, the PSB, already joined the opposition this month.

Investors are betting the instability will lead to new leadership that is better equipped to revive the economy, which is expected to contract for a second straight year in 2016. The Ibovespa stock index climbed to the highest level in seven months on Thursday and remained little changed in early afternoon trading Friday. The real extended a rally that has made it the best performer among global currencies this month.
"Everything that puts more pressure on the Workers' Party has been good for markets," said Ricardo Gomes da Silva, head of currency trading at Correparti brokerage. "News that Lula's arrest could be decreed have fueled expectations of a bigger chance for impeachment, reflecting on the price of the real and the stock exchange."
Prolonged Process
But Rousseff is fighting for survival. She may even appoint Lula to her administration in an effort to shield him from further detentions or arrest, local media reported this week. Under Brazilian law, only the Supreme Court can authorize a Cabinet member's imprisonment and trial. The president told reporters Friday that she would be proud to have Lula in her government, adding that she won't discuss ministerial appointments with the press.
QuickTake Brazil's Highs and Lows
And barring the scenario of Rousseff resigning, her removal from office is likely to prove a prolonged process. Impeachment requires multiple rounds of voting in both chambers of Congress and could last months, by which time the president's fortunes could improve.
Meanwhile she struck a defiant tone on Friday, ruling out stepping down while reminding journalists that she faced greater adversity as a prisoner of the military dictatorship decades ago.
"I was imprisoned and I was tortured, so I know how determined I can be," she said. "I'm not giving up."
Before it's here, it's on the Bloomberg Terminal.
LEARN MORE