Valeant CEO, Learning to Walk Again, Lays Out Plans to Top Staff
by
`We are not sitting on any other big issues,' Pearson says

CEO met with top executives after return from medical leave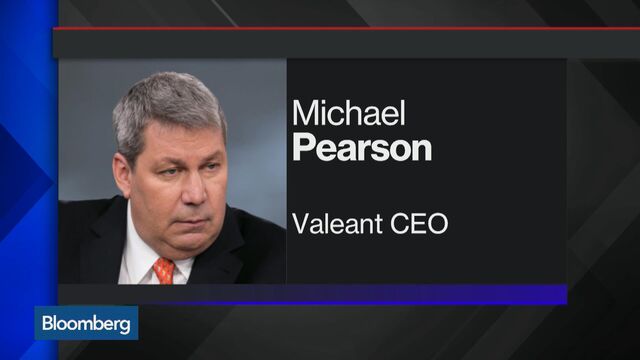 Days after his surprise return from medical leave, Valeant Pharmaceuticals International Inc. Chief Executive Officer Michael Pearson gathered his senior managers at the company's New Jersey offices to deliver a message: the drugmaker's businesses were still mostly doing well, and Valeant was not going to go bankrupt.
"There is no other big shoe to drop that I am aware of," Pearson told attendees at the March 2 meeting, according to a person who participated in the session. "To the best of my knowledge we are not sitting on any other big issues." A Valeant spokeswoman declined to comment.
It had been a wild six months. The stock is down about 75 percent since its August peak, the U.S. Securities and Exchange Commission is investigating, an internal board probe is looking into the company's business practices, and Pearson had been on leave since being hospitalized in late December with severe pneumonia, as rumors swirled about his health and whereabouts. Having lost at least 30 pounds, Pearson said he was learning to walk again at the same time he was taking the reins back at the drugmaker.
Paying down debt is a priority, Pearson said at the meeting with executives, and he dismissed the idea that the drugmaker might go bankrupt. "We're not," he said, adding that the company generates a ton of cash. 
Meeting With Executives
The wide-ranging session lasted about 30 minutes and was held in a second-floor conference room at Valeant's operational headquarters in Bridgewater, New Jersey. Pearson's remarks at the session, and at a follow-up meeting on March 9, were described in detail by the person, who spoke on condition of anonymity because the meetings weren't meant for the public.
Pearson hasn't spoken publicly since his return to the drugmaker was announced on Feb. 28. He has had one-on-one conversations with stock analysts, however, which have raised questions among investors, analysts and securities experts about whether the CEO might have unfairly disclosed how the company was doing.
At the March 2 meeting, Pearson reassured executives that its units were doing "a lot better than the outside perception."
That wasn't to say everything is going perfectly: A week later, at the March 9 meeting, Pearson said the company needed to take action on four business lines that were performing poorly. Those businesses were the Obagi line of skin care products; Sprout, maker of a female libido pill; Solta Medical, which makes laser skin treatments and ultrasound fat removal devices; and a unit that has an irritable bowel syndrome test.
Won't Sell Unit
One thing Pearson said he wouldn't do was pay off debt by selling one of its units, the vision-care business Bausch & Lomb. One of Valeant's biggest shareholders -- billionaire investor Bill Ackman's Pershing Square Capital Management LP -- at a March 8 investor conference suggested doing just that. Ackman also raised the threat that if Valeant didn't turn things around, the management could be replaced. Valeant announced this week that it will add a Pershing executive to its board, one among three new directors.
Since Pearson's return at the end of last month, the stock is down 18 percent, after the company pulled its fourth-quarter and 2016 forecast, said it was being investigated by the SEC, and said it would delay reporting results. The company is now scheduled to report fourth-quarter results and a new forecast on March 15.
"The last thing I wanted to do was come out with numbers that would then change," Pearson said at the March 2 session, according to the person. His coming back from illness also provided a partial excuse, Pearson said.
'Nervous'
"We're under a barrage of external government and media and everything else," he said. "Everyone is nervous. The board is nervous. You guys are nervous. Everyone is making sure every 'i' is dotted, every 't' is crossed," Pearson said.
Pearson called the reaction to the SEC investigation of Valeant "overblown," and said that lawyers told him the investigation was to be expected after Valeant complained about negative report published by Citron Research, a stock commentary website led by short seller Andrew Left. Pearson said he did not know precisely what the SEC investigation was about, though.
The drugmaker, which has its legal headquarters in Laval, Quebec, is also under pressure from pharmacy benefit managers including CVS Health Corp. and Express Scripts Holding Co. The pharmacy managers have started to place additional restrictions on Valeant's products in favor of cheaper treatments. In April, CVS is starting a program that limits the use of Valeant's toenail fungus drug Jublia.
Pushing for Discounts
Pearson said that company was in active negotiations with both Express Scripts and CVS that would likely result in Valeant giving the pharmacy benefit managers additional discounts. The pharmacy companies are using criticism of Valeant "to come back and extract a little bit more money," he said.
"We have been in conversations with them concerning certain practices and behaviors they have demonstrated," said Brian Henry, an Express Scripts spokesman. "We are pleased they have been responsive." He declined to comment further.
Carolyn Castel, a CVS spokeswoman, declined to comment specifically on any talks with Valeant, and said the company frequently works with drugmakers to get the best value possible for its clients.
Board Probe
Pearson also discussed an "ad hoc" board investigation at the company, started by the board after questions arose about a now-ended relationship with mail-order pharmacy Philidor Rx Services LLC.
"We gotta get the ad hoc committee to finish the work," Pearson said.
The company announced Pearson's illness in late December, saying that he had been hospitalized with severe pneumonia. When he first got sick, Pearson said that he delayed seeking medical attention because he thought he had the flu. At an emergency room in Morristown, New Jersey, X-rays found "my lungs were full."
Pearson said he was hospitalized for eight weeks at one hospital, and was at times sedated. He said he felt lucky to recover, but said he had lost 30 to 40 pounds and was still learning to walk again after being in a hospital bed for so long. He also addressed rumors that his long absence might have been from other problems.
"There were lots of rumors I was in drug rehab" or went to Europe or the Caribbean, he said at the meeting, according to the person. "None of those are true."
Before it's here, it's on the Bloomberg Terminal.
LEARN MORE