Seeing Risks Everywhere, Osborne Offers U.K. No Austerity Relief
by
Chancellor set to deliver budget in shadow of `Brexit' vote

More austerity needed to meet 2020 surplus goal, analysts say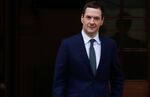 U.K. Chancellor of the Exchequer George Osborne is sticking to his guns.
Tripped up by an economy proving weaker than forecast and with lower tax revenues as a result, Osborne is set to use his budget on March 16 to deliver even more austerity to meet a legally binding pledge of a fiscal surplus by the end of the decade.
Such rectitude will leave the Bank of England with the task of driving demand and marks a split from peers increasingly turning to fiscal stimulus to support their economies.
"His focus on austerity does set him apart from the European governments, but it is his trademark. He's staked his own reputation on it," Liz Martins, an economist at HSBC Holdings Plc in London, said in an interview. "If we do get a new wave of cuts, that could hurt growth, and potentially we do need rates to stay low."

Squeezing fiscal policy is par for the course for Osborne, who took office in 2010 pledging to rid Britain of a record budget deficit following the ravages of the financial crisis. Subsequent strength in the economy relative to that of international peers only stiffened his resolve.
Having already halved thedeficit from 10 percent of the economy, his goal now is to post surpluses from 2020 and continue them so long as economic growth doesn't fall below 1 percent.
That leaves economists at Bank of America Merrill Lynch predicting he'll have to tighten policy by about 5 billion pounds per year until 2020.
Cuts Warning
Osborne is already signaling he is up to the challenge, saying last month that he "may need to undertake further reductions in spending because this country can only afford what it can afford."
That marks a shift from November, when a 27 billion-pound ($39 billion) windfall from lower debt costs allowed him to scrap controversial cuts to tax credits and protect police budgets, while still reducing borrowing and increasing investment.
Forcing the turn is the general economic malaise at home and abroad since. While the Office for Budget Responsibility in November predicted U.K. growth of 2.4 percent this year and 2.5 percent in 2017, the median forecast of economists surveyed by Bloomberg News is now for 2.1 percent and 2.2 percent.
Budget Overshoot
Osborne is on course to overshoot his current-year deficit forecast by about 5 billion pounds, according to Bloomberg Intelligence economist Jamie Murray, and further cuts could be needed if he wants to keep close to the 10 billion-pound surplus currently predicted for 2019-20.
"The overshoot in borrowing is unlikely to get better by itself," Murray said. "If the chancellor wishes to preserve some fiscal headroom, he may need to announce additional spending cuts or tax increases."
Finding it may prove tricky. Prime Minister David Cameron's Conservative party already committed not to raise levies on income, sales and national insurance. A further blow to Osborne's revenue-raising ambitions came this month when pressure from within his own party and business groups forced him to abandon a revamp of pension taxes.
While the plunge in oil prices could give him room to raise duties on road fuel, the likelihood is that government spending will bear the brunt of his austerity. Osborne indicated as much when he said he will seek "efficiencies" in departments.
EU Referendum
Hemming him in further is the need not to antagonize voters or his own party as the divisive referendum on European Union membership looms. After beginning the year as the front-runner to succeed Cameron, Osborne is now trailing London Mayor Boris Johnson, an advocate of so-called Brexit, in opinion polls. Withdrawal from the EU would likely roil the economy and the government's accounts.
"Cameron and Osborne are now in a real fight and all is focused on the referendum," said Tim Bale, professor of politics at Queen Mary, University of London. "If 'Brexit' occurs, all bets are off."
Austerity leaves Osborne at odds with many of his counterparts in the Group of 20 after they said last month they'd use "fiscal policy flexibly to strengthen growth" amid a sense the monetary policy is reaching its limits. Canada, Japan and China are among those either delivering or considering more fiscal aid for their economies.
The chancellor may still have some room to play with. Yields on government bonds hit a record low in February, potentially reducing the cost of servicing the nation's 1.6 trillion pounds of debt.

That could allow him to sweeten the pain of cuts with more popular measures. Among the options are relieving taxes on businesses or accelerating a promise to increase the amount people can earn before they start paying higher-rate tax to 50,000 pounds.
Raising the 40 percent tax threshold "is a way for Osborne to show his instincts run in the right direction as far as the Conservatives are concerned," said Bale.
Whatever he can conjure up, the Institute for Fiscal Studies is among those warning he may have created a rod for his own back by signing up to an inflexible legal target for deficit reduction.
"There are a number of risks facing the chancellor: some are economic and some potential policy changes," said Gemma Tetlow, an economist at the IFS in London. Setting such rules "does increase reputational costs of not meeting those targets."
The opposition Labour Party said Osborne was defying "the growing consensus in the economics profession" by continuing to pursue spending cuts. 
"We undertake the right to suspend our targets so that monetary policy and fiscal policy can work together" when times require it, Labour's finance spokesman, John McDonnell, said in a speech on Friday.
Before it's here, it's on the Bloomberg Terminal.
LEARN MORE