Autos
This New-Vintage Jeep Scrambler Is a $150,000 Off-Roading Dream
Boulders and backroads of Ojai, Calif., are no match for Legacy Power Wagon's hand-built beast.
by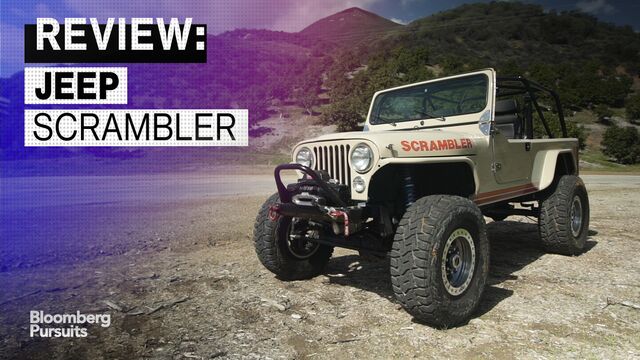 Regardless of your politics, I think we can all agree that Ronald Reagan knew how to strike a pose.
See him astride some gleaming Chestnut on his ranch or inside that old blue Jeep from '83, and you can practically hear the wistful hum of America the Beautiful.

It's the Jeep I'm especially enamored with today. I drove a $150,000 modern replica of one the other week across orange groves near Ojai, Calif.
Maybe you've heard of the brand, Legacy Power Wagon. It's a Jackson Hole, Wyo., company founded six years ago by Winslow Bent, a truck fanatic who has built this kind of thing his whole life and who now employs a couple of other mechanics to produce two dozen vehicles a year in vintage bodies but with all new components. (It's the same idea as that Superformace Shelby Cobra I drove last summer—an automaker that revives classic brands and vintage aesthetics with modern components and luxuries.)
Legacy's Power Wagon trucks are its most famous—they are modeled on the old WC Weapons Carrier trucks the American military used during World War II—but the unique Jeeps, such as the Scrambler I drove, are the cooler option. He makes them for people who can afford to pay $120,000 to $200,000 on a vehicle with the style and drive sensibility of a vintage work truck but that doesn't come with maintenance and reliability issues—and there were plenty of them on those old Jeeps. (Yes, it's about the same as what you'd pay for a high-end Land Rover or G-Wagon, although for an entirely different raison d'être).

Scramblers, also known as Jeep CJ-8s, made their debut in 1981 as the long-wheelbase versions of Jeep's CJ-7; they had front-locking hubs that would engage four-wheel drive, manual or automatic transmission, and tape graphs and special wheels that came as part of a special appearance package Jeep offered. They were the descendants of the original Willys Jeep, introduced to consumers in 1945 as a civilian model of the ubiquitous U.S military workhorses. Jeep eventually discontinued them when it introduced the more modern Wrangler in 1986.

Go Anywhere
Bent makes each Scrambler by hand over 600 hours of work; he scours the globe finding old bodies to restore in pure aluminum and waterproofing, then pairs them with new parts and cosmetic upgrades. The Scrambler I drove had a 240-horsepower 630T 3.0L turbodiesel engine sourced from a Boeing Phantom Badger model and tuned by Banks Power shop, then paired with a six-speed automatic transmission and American-made 37-inch Toyo Open Country RT tires.

What's crazy about that setup is that it gives you dozens of drive-mode options when combined with the fact that you can adjust the four-wheel drive into front- or rear-wheel drive and into high, neutral, or low gears as well.
That made climbing hills and over boulders on Bent's avocado ranch almost as easy as riding in a driverless car, since you don't need to touch the wheel, the gas, or the brakes: I just popped the levers on the floorboards by my right ankle into the down position and let the Jeep do its thing. The Scrambler gets 420 pound-feet of torque right from the lowest gears, so it's proficient at dirt, sand, snow, and, uh, rocks. At 3,200 pounds, it's exceptionally light (the Bentley Bentayga weighs nearly twice that), which allows for more than 30 mpg fuel efficiency, though it's not suited to heavy towing of more than 5,000 pounds. Bent offers low-emission CARB-certified gasoline, efficient Tier II turbo-diesel, and bio-diesel engines as options for the Jeeps he builds. 

Most people who buy them use them as estate trucks or for hunting and fishing. They're not incredibly useful on the highway—you can cruise at 80 mph, sure, but with their tall open tops and deafening engine rumble, you'll be windblown and browbeaten by the time you arrive.
Drive Feel
I drove mine both on road and off. We spent half the day filming the rig on rocks and dirt and the other half canvassing sunny little two-lane roads behind Ojai.
To get inside I had to pull myself up and in behind the steering wheel, grabbing a handhold high on the roll bar and hopping like you do to stirrup-up on a tall horse—and I'm nearly six feet tall. If you're short, you'll want a little step to help you get inside the three-foot-plus clearance.
The Jeep itself is incredibly fun to drive. It rumbles like a tank and towers over everything else on the road, with massive brakes and a steering wheel that goes all over the place as you turn it. This has the most give of anything I've ever driven, including a boatsize old Caddy. That's a good thing for the type of all-terrain driving you'll be doing in this.
At the helm you feel like Furiousa herself navigating a desert minefield in Mad Max. Its feeling of power is infectious—you might get a bit drunk on it, grinning like the Cheshire Cat as you drive. Just go with it. 

The Bare Details
Bent has done his patriotic best to make the design of the beast match the energy underneath the Scrambler's hood. The flat windshield is removable, the big knobby tires can be engaged depending on the terrain, the dashboard has old-style Jeep dials, a glove-box like a tin can, a radio, and a heater, and not much else. The radio, control knobs, leather seats, and gear-shifters are all weatherproof; the rest of the truck is as bare as a sardine can, which is exactly what you want from a vehicle like this.

The standard version of the Scrambler comes with a cloth soft-top that you can tack on when you want it. It also has myriad seat options behind the two pilots' chairs up front: two rows of seats one after the other, bench seat rows facing each other, or rear space open like a pickup truck, to name a few. Or just put in one of those high-chair setups you use to scout game.
Other options include a $3,000 premium sound system, those $2,500 air locking differentials I mentioned earlier, $350 LED headlamps, and a $3,000 air conditioning system if the open-top isn't breezy enough for you. Legacy Power Wagons often shrink wraps and ships, uses enclosed transport containers, or personally delivers the newly made Jeeps to customers. 

But the beautiful thing about these Jeeps is that, since they're hand built and made-to-order anyway, you can pretty much have it any way you want it. And on this big toy, it pays to have a little fun. Usually I'm not one for those '70s-style orange stripes and big SCRAMBLER lettering across anything, but here, it just works.
There is one major caveat: The Scramblers take about a year to build, and the waiting list is one year long. Although, to my mind that's a small price to pay for this kind of freedom.


Before it's here, it's on the Bloomberg Terminal.
LEARN MORE