Iron Ore's `Insane' Advance Gets Rolled Back as Wild Week Ends
by
Record 19% surge at start of week was `irrational,' says Huang

Goldman, Citigroup have said the recent gain unlikely to last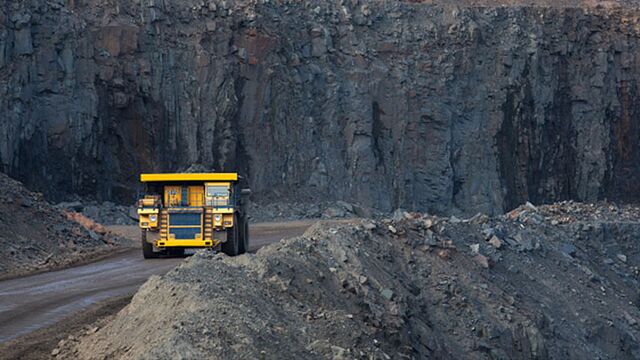 Iron ore sank, adding to signs the record leap at the start of the week wasn't justified given the global market's poor fundamentals, with banks and even miners lining up to say the spurt was destined to fade.
Ore with 62 percent content delivered to Qingdao retreated 1.4 percent to $57.09 a dry metric ton, according to Metal Bulletin Ltd. The price has declined every day after Monday's 19 percent rally to $63.74, the biggest gain in daily data going back to 2009. Friday's drop was foreshadowed by losses in futures in Singapore, which fell near $50.
"The insane rise at the start of the week was irrational and is unlikely to continue," Huang Huiwen, an analyst at Shanghai Cifco Futures Co, said before the Metal Bulletin data was released. "Usually after a period of abrupt gains, prices tend to drop back quite sharply. I think we'll see that in iron ore."
Iron ore has advanced in 2016, surprising many forecasters who'd expected a fourth year of losses driven by a global glut and slowing demand for steel in China, the largest user. Prices had surged on Monday after bullish comments on growth from China's leadership, spurring speculation that some investors had been forced to rush to reverse bets on losses. After the jump, Goldman Sachs Group Inc. and Citigroup Inc. reiterated bearish forecasts, and producer BC Iron Ltd. said that it expected a retracement.

"There's not going to be a huge increase in steel demand, I think most people get that," said Huang. "A reasonable price range for iron ore should be between $45 and $55."
The retreat in the spot price was preceded by declines in futures on Friday. In Singapore, the SGX AsiaClear contract for May settlement dropped as much as 1.5 percent to $50.40 a ton, while futures on the Dalian Commodity Exchange fell 2.7 percent for their first loss this week.
The recent rally will probably prove to be short-lived given fundamentals remain weak, Australia & New Zealand Banking Group Ltd. said in a report on Friday, forecasting the commodity would be back down to $48 at the end of June. Supply growth is expected to accelerate as the impact of recent disruptions dissipates, ANZ said.
BHP Billiton Ltd., the world's biggest mining company, said on Friday that its joint venture, Samarco Mineracao SA, is seeking to resume iron ore output in Brazil after a deadly dam burst caused operations to be suspended. Mid-week, the company said the recent price surge didn't change the mid- to long-term outlook for China's steel and iron ore demand, according to Mike Henry, president of its Minerals Australia operations.
Back Down
BC Iron Managing Director Morgan Ball said Wednesday the "blip" wouldn't endure and prices may head back to down to the $45-to-$55 range. For Lourenco Goncalves, head of Cliffs Natural Resources Inc., the largest U.S. producer, the gyrations had been driven by shifts in futures and have no correlation with the physical trade.
"Prices have surged well beyond our forecasts this week, as enthusiasm toward potentially better steel demand in China was met with extensive short-covering," Macquarie Group Ltd. said in a report received on Friday. While the market appears well-supported by seasonal factors and improved sentiment, "we are nervous as to how much upside is possible from here," it said.
Before it's here, it's on the Bloomberg Terminal.
LEARN MORE