Gold Gurus at Sprott Want to Be Shadow Bankers for Canada Miners
by
Cites pullback in bank lending to small miners under new rules

Head of U.S. unit says project-finance market in 'disarray'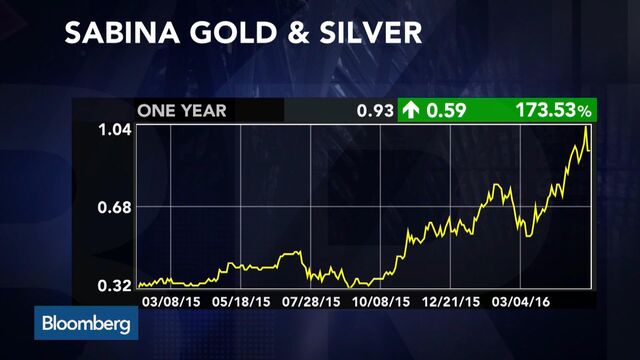 Sprott Inc., the Canadian money manager that made its name investing in gold, is now looking to replace the banks who finance the metal's production.
The firm, which manages about C$8.5 billion ($6 billion), is pushing into the market for the loans small mining companies need to get their projects up and running as regulation imposed since the financial crisis prompts many banks to retreat, according to Rick Rule, chief executive of Sprott U.S. Holdings Inc., the Toronto-based firm's U.S. subsidiary.
Sprott is joining other Canadian firms, from pension funds to the country's largest private-equity company, in the ranks of the world's shadow banks that are filling roles regulators have deemed too risky for deposit-taking banks. Sprott is focusing its own efforts in its traditional area of expertise: resources, and often in its own backyard. It expects to have about C$400 million in the fund by the end of the year.
"The project market, which was dominated by the big banks, has been thrown into complete disarray," Rule said in an interview at Bloomberg's Toronto office. "It's open more to financial mediaries like Sprott."
'Very Expensive'
Rule estimates the banks' retreat has caused the median yield on top-ranked project finance debt to go to 15 percent from 8.5 percent, even as interest rates generally have declined. The effective yield on Canadian dollar high-yield bonds is about 9.8 percent, according to Bank of America Merrill Lynch data.
Banks have become more selective about what businesses they engage in as global regulation designed to prevent a repeat of the 2008 credit crisis increased the capital they must hold on their balance sheets against riskier assets. At the same time regulators have been more vocal about which businesses they deem appropriate for institutions that are central to the financial system.
"It's very expensive to do a mine financing," said David Harquail, chief executive officer at Franco-Nevada Corp., whose own company offers miners a solution to this problem through streaming, or giving payments to miners in exchange for discounted metal in the future. "You have fewer number of banks post the financial crisis."
Carve Niche
That trend across the banking industry has seen assets in the global shadow banking sector swell to $137 trillion worldwide, or about 40 percent of total financial-system assets, according to the most recent report from the Financial Stability Board, as institutions outside the purview of bank regulations step into the void left by traditional lenders.
Among those have been Canadians like Onex Corp., the country's largest buyout firm, which has ramped up a business packaging midsized company loans into securities, and Canada Pension Plan Investment Board, the country's largest pension plan, which last year spent $12 billion buying a business originating similar loans from General Electric Co.
Sprott is looking to carve out its own niche in a smaller corner of the market, providing loans to early stage resource companies. These companies would generally have junk credit ratings and with no producing assets to act as collateral, the new regulations would require the bank to keep a large chunk of capital in reserve on its balance sheet in case the debt soured.
Share Option
"The traditional project-finance banks don't usually find the return on equity to them is high enough just by lending," said Ron Gagel, chief financial officer at TMAC Resources Inc., a Toronto-based miner developing a gold project in Canada's most northerly territory. "It's almost not profitable enough to them."
Gagel says that 20 years ago there were 50 banks who would provide project financing for mine developers and smaller producers, but now he estimates it's just 15. To secure a $120 million loan to build TMAC's mine Gagel turned to a combination of a traditional project finance bank, Morgan Stanley, and Sprott.
The interest rate on that loan was 8.75 percent, but included the right to buy gold from the company for a set price, and the right to buy shares at a set price, allowing the lenders to book extra profit if the mine and the company are successful, Gagel said.
"The market has really, really, really been disrupted," said Sprott's Rule. "It's an interesting part of the Canadian resource credit market that most Canadians don't know about."
Sprott may have something else going for it. After three straight years of declines, gold has surged about 20 percent since December to $1,257.99 an ounce, putting it in bull market territory.
Before it's here, it's on the Bloomberg Terminal.
LEARN MORE