Giving Up On The Currency Channel Might Cause More Pain Than Draghi Expects
Currency weakness has helped equities, Citi says.
by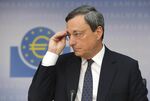 There are two big takeaways from Thursday's ECB announcement:
The imposition of a negative rate regime does not necessarily have to be unduly punitive to banks profits; and
Central bankers might have less confidence in their ability to boost economic activity via the currency channel.
Putting the pair together, one inference that could be made from the design of this stimulus is that the European Central Bank "decided to favor the bank credit channel over foreign exchange," as Pictet Wealth Management Senior Economist Frederik Ducrozet asserted. Put simply, Draghi & Co. appear to have prioritized credit creation over using a weaker currency to capture a bigger slice of foreign demand as a means of rejuvenating economic activity. 
"Our measures today are entirely addressed to our domestic economy," the ECB President said during Thursday's press conference, indicating that the central bank was not engaging in a 'race to the bottom' for interest rates aimed at fostering weakness in the currency.
But Robert Buckland, chief global equity strategist at Citigroup Inc., contends that eschewing foreign exchange as an avenue to improve economic activity (through a lagged improvement in net exports) also dampens another channel through which unconventional monetary stimulus improves the real economy.
When the value of financial assets rises, those who hold them presumably feel richer and spend more, a process known as the wealth effect.
Citi developed negative interest rate policy (or NIRP) equity and currency indexes, which includes the euro zone, Japan, Switzerland, Sweden, and Denmark, to track what happens in these asset classes once negative rates are introduced:

"If negative rates are successful in weakening the country's currency, then the equity market tends to perform well (in local terms at least)," he explained. "But if the currency appreciates despite negative rates, as occurred earlier this year, then the equity market tends to weaken. The key transmission mechanism for negative rates seems to be their effect on the currency."
In the euro zone and Japan, negative rates occur in conjunction with central bank asset purchases, which are designed to push investors further out the risk spectrum and into asset classes such as corporate debt and equities.
While the portfolio balance channel has been enhanced by the ECB's plans to purchase corporate bonds, the lack of an FX response will crimp the upside in operating and financial performance for these companies, argues Buckland.
"Currency markets take profits away from companies listed in one equity market and hand them to companies listed in another," the strategist writes. "Share prices adjust accordingly."
Buckland recommends buying secure yield stocks in domiciles with a negative rate regime, noting that their average yield of 4.1 percent far exceeds sovereign debt yields in those countries.
But investor appetite for these kinds of stocks doesn't augur particularly well for business investment.
"The NIRP bond refugees are much more interested in extracting dividends than financing corporate growth ambitions," concludes Buckland.
Before it's here, it's on the Bloomberg Terminal.
LEARN MORE