For Just $6 Billion a Month, Draghi Can Reshape Euro Bond Market
by and
Investors divided on benefit of adding corporate notes to QE

ECB purchases will pack mighty punch however small, say banks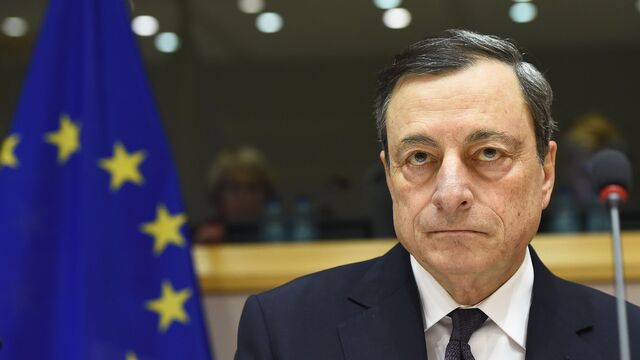 Mario Draghi will change the face of Europe's corporate-bond market even if the European Central Bank's debut purchases amount to just 5 billion euros ($6 billion) a month.
That's the most that Commerzbank AG, Morgan Stanley and Pioneer Investments expect the ECB to spend on corporate bonds, falling short of the 9.6 billion-euro average for monthly purchases of covered bonds. It still may be enough to make corporate bonds even less accessible and even more expensive for everyone else trying to buy them.
"The ECB will be crowding out investors in a market, where it is already extremely difficult to buy bonds," said Hyung-Ja de Zeeuw, a senior fixed-income strategist at ABN Amro Bank NV in Amsterdam. "I've spoken to many investors that are extremely worried about liquidity, and they're complaining that they can't get their hands on bonds and are sitting on piles of cash."
She sees an even worse squeeze, with the ECB potentially buying as much as 10 billion euros of corporate bonds a month. Barclays Plc forecasts as much as 15 billion euros. Just 5 billion euros a month, or 60 billion euros a year, would equal 25 percent of the 217.7 billion euros of investment-grade bonds sold last year, according to data compiled by Bloomberg.
Stimulus Boost
The ECB announced plans to start buying highly rated euro-denominated non-bank corporate notes on Thursday as part of wider efforts to boost inflation and investment. It also expanded the overall bond-buying program to 80 billion euros a month from 60 billion euros, and cut interest rates.
Still, the central bank's announcements have previously proven a disappointment to bondholders. Securitized debt surged to the the highest in more than seven years when Draghi announced plans to start buying such bonds in 2014. They soon declined once investors realized Draghi's months of positive comments about ABS did not mean the ECB would gobble up large swaths of the market. It has bought just 19 billion euros of the notes since purchases began in November 2014.
"I'm skeptical they will buy many corporate bonds," said Mark Dowding, a London-based money manager at BlueBay Asset Management LLP. "It's more of an announcement effect rather than large volumes of bonds actually ending up on central banks' balance sheets."
For investors already holding corporate bonds, any ECB purchases may provide a boost, said Tanguy Le Saout, head of European fixed income at Pioneer Investments.
Central-bank "demand will act as strong support for current spread levels and should see corporate bonds outperforming their sovereign counterparts," said Le Saout. After Thursday's decision, the "clear winner was the European corporate bond market."
Before it's here, it's on the Bloomberg Terminal.
LEARN MORE