Ex-Billionaire Spars With Indian Media Amid Outcry Over Debt
by
As member of parliament, Mallya says he will comply with laws

Rubbishes media reports that portray him as an absconder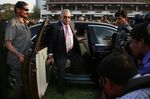 Vijay Mallya, the former Indian billionaire and founder of the failed Kingfisher Airlines Ltd., denied fleeing the country and lashed back at what he called a media "witch-hunt" over $1.4 billion of debt he owes creditors.
The tycoon who presided over a beer and liquor empire a few years ago in the South Asian country is in the spotlight amid efforts by the government and regulators to pare stressed assets in the financial system from a 14-year high and recover dues. A group of 17 banks approached the Supreme Court earlier this month to bar Mallya from leaving the country, but were told on Wednesday in court that he had already left India on March 2.
"I didn't flee from India and neither am I an absconder," Mallya, 60, wrote on his Twitter Inc. account. "Once a media witch hunt starts, it escalates into a raging fire where truth and facts are burnt to ashes."
Prime Minister Narendra Modi's government came under fire in parliament on Thursday for failing to prevent his departure, while Finance Minister Arun Jaitley told lawmakers that lenders are taking every possible action to get their money back. As a member of the parliament's upper house himself, Mallya said in his Twitter comments that he will "comply with the law of the land" but won't stand a media trial.
First Class
The Times of India, which has the largest circulation among English language dailies in the country, reported Friday that Mallya flew first class to London, packing seven heavy bags. Rubbishing reports that he fled to avoid cases against him, he said "I am an international businessman, I travel to and from India frequently."
Kingfisher Airlines, once India's No. 2 carrier that redefined premium air travel, defaulted on the loans guaranteed by Mallya and United Breweries Holdings Ltd., according to SBICAP Trustee Co. Mallya has maintained that Kingfisher Airlines was an "unfortunate commercial failure" caused by macro economic factors and government policies.
Long Speech
Jaitley told lawmakers on Thursday that Mallya owed 90.9 billion rupees ($1.4 billion), including all interests compounded as of Nov. 30. As the issue was debated in parliament, Rahul Gandhi, heir to India's most famous political family and a vice president of the opposition Congress party, told lawmakers that Jaitley's long speech didn't explain how someone "who stole 90 billion rupees from the government escaped."
Attorney General Mukul Rohatgi, in an interview to Bloomberg Television India, said a solution could be worked out. In a statement dated March 6, Mallya said he has been making efforts to reach a "one-time settlement" with banks.
"I don't think this case should be blown out of proportion," Rohatgi said. "I am sure if Mr. Mallya comes back, he is welcome to sit across with the banks, work out a solution, and I think it can be worked out."
Before it's here, it's on the Bloomberg Terminal.
LEARN MORE