Deutsche Bank Sees 2016 Industrywide Trading Revenue Drop
by and
German lender paid 756 people 1 million euros or more in 2015

Bank cut bonus at securities unit 15% to 1.45 billion euros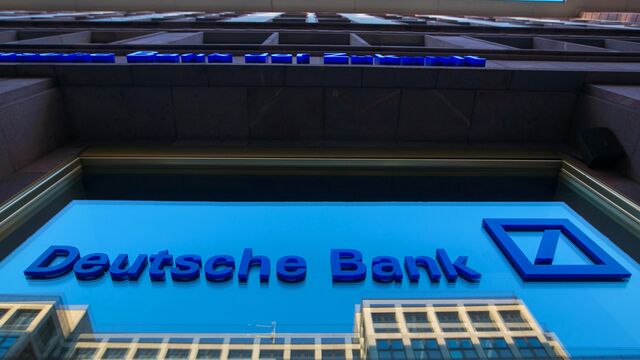 Deutsche Bank AG, which runs Europe's biggest investment bank, said it expects the industry's revenue to decline this year as clients consider pulling back from trading some fixed-income securities and refrain from doing deals.
Securities firms will see debt trading revenue fall "slightly" from a year earlier as "an increase in macro revenues due to monetary policy divergence will be more than offset by lower credit revenues," Deutsche Bank said in a statement from Frankfurt on Friday. Income from equity trading will probably be "moderately lower" in 2016, while corporate finance industry fee pools will fall due to a decline in deals to advise on, it said.
"The beginning of 2016 has seen volatility in the world's financial markets," co-Chief Executive Officers John Cryan and Juergen Fitschen said in a note to shareholders. "This has impacted the banking sector. The seasonally strong first quarter might turn out to be challenging for the sector overall. Deutsche Bank is no exception to this."
The shares rose 6.7 percent to 18.21 euros at 4:29 p.m. in Frankfurt after declining over the past four days. They have dropped about 39 percent over the past year.
JPMorgan, Citigroup
Germany's largest lender is first among big securities firms to offer a full-year forecast after a global market rout, emerging-markets slowdown and plunging energy prices curbed trading revenue in the fourth quarter. JPMorgan Chase & Co.'s investment bank said in February that revenue from sales and trading had tumbled about 20 percent so far this year, while Citigroup Inc. said this month that first-quarter revenue from fixed-income and equity trading may drop 15 percent.
Debt trading accounted for 22 percent of Deutsche Bank's 33.5 billion euros ($37 billion) of revenue last year. The nine biggest investment banks saw their combined earnings from the business fall 11 percent to $61.8 billion in 2015, the third annual decline, data compiled by Bloomberg show.
"There's still concern that the earnings outlook for banks will suffer," Ingo Speich, a fund manager at Union Investment, one of Deutsche Bank's largest shareholders, said in a statement. "There's a lot Cryan needs to do to play in the big leagues, at least in Europe."
'Downward Pressure'
In consumer banking, revenue from deposit products will "continue to suffer from the low interest-rate environment," while income from credit products will grow this year, Deutsche Bank said. Transaction banking, which is also affected by record low interest rates, will probably see a "stable development" of volumes while feeling "downward pressure," particularly in cash management, it said.
The asset and wealth management units, which were split this year, may see "downward revenue pressure" unless markets pick up, Deutsche Bank said. The technology and operations of both divisions will be improved this year and "further initiatives will be launched to streamline our geographic and operational footprint," it said.
Deutsche Bank, which saw a management upheaval in 2015, is seeking to boost capital and profitability to reverse a slump that has made it the worst-valued major global lender. Rising provisions for past misconduct spanning its global businesses have hurt the bank's financial strength, sapping more than the 11.5 billion euros in equity it raised from investors in 2014 and 2013.
Bonus Cuts
The company's comments on 2016 are more downbeat than those of smaller German competitor Commerzbank AG, which said on Friday that it expects a "slight improvement" in full-year net profit as it cuts costs and unwinds toxic assets.
Deutsche Bank has dropped about 20 percent this year. That compares with a 29 percent decline at Credit Suisse Group AG, which last year announced plans to shrink the securities business to focus on wealth management. Barclays Plc, which said last month that its investment bank swung into a fourth-quarter loss, has decreased 25 percent in 2016.

While Deutsche Bank is seeking to award staff compensation that allows it to compete for talent with other banks, the company will be "underpaying against our international peer group" for last year, Cryan said in January. The co-CEO said last week that he expects to resolve the largest of the lender's legal cases by the second or third quarter of this year.
Deutsche Bank scrapped 2015 bonuses for its management board, with Cryan saying in January that it would be "inappropriate vis-a-vis society" not to scale back variable compensation. The co-CEO said previously that bankers still earn too much money and are often promised rewards too quickly.
The bank paid 756 people 1 million euros or more for last year, down from 816 members in 2014, according to its filings. Last year's highest paid member of staff was awarded between 11 million euros and 12 million euros. That compares with between 8 million euros and 9 million euros for the highest two paid members in 2014. The company didn't disclose any names.
Deutsche Bank extended the minimum deferral period for bonuses over four years from three and increased the retention period for upfront equity awards for so-called material risk takers to one year, according to the statement. Most employees with a bonus of less than 130,000 euros were paid immediately, people familiar with the matter said earlier this week.
Oudea, Blessing
The company will pay 2.41 billion euros of bonuses for last year, down from 2.71 billion euros. Variable compensation at the investment banking and trading unit fell 15 percent to 1.45 billion euros. Deutsche Bank didn't cut bonuses as much as previously considered, with familiar people saying in October that it may trim variable compensation at the securities unit by almost a third.
"If they could get away with 33 percent they would," said Jason Kennedy, head of recruitment firm Kennedy Group in London. "They feel that 15 percent will be less visible publicly, so they preferred it. They can continue cutting throughout the year, and by year-end you will find Deutsche Bank have reached their original goal."
Total compensation increased 5.1 percent to 10.5 billion euros as headcount rose 3 percent to 101,104 people, the bank said. Cryan received a salary of 1.9 million euros, while Fitschen was paid 3.8 million euros.
That's less than the 3.63 million euros of salary, bonus and stock options that Societe Generale SA awarded CEO Frederic Oudea for 2015, while BNP Paribas SA granted CEO Jean-Laurent Bonnafe 3.54 million euros, according to company filings. At Commerzbank, CEO Martin Blessing received 1.7 million euros.
Before it's here, it's on the Bloomberg Terminal.
LEARN MORE