Banks Lead Rebound in Europe Stocks; DAX Jumps Most Since August
by
All industry groups from the benchmark Stoxx 600 advance

Index on Thursday reversed gains of 2.5% to close down 1.7%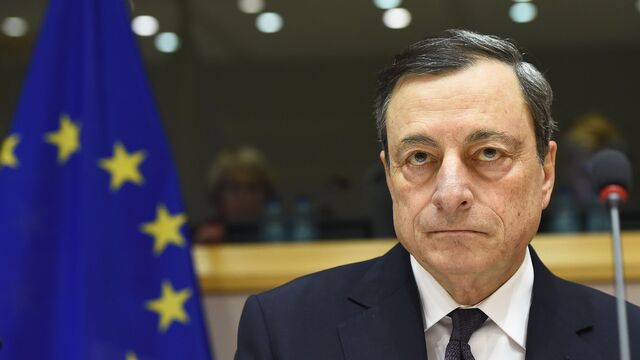 Europe's stocks bounced back, recovering from Thursday's losses, as traders reassessed Mario Draghi's expanded stimulus package versus his signal that it might be the end of interest-rate cuts.
The Stoxx Europe 600 Index climbed 2.6 percent to a six-week high, boosted by gains in financial firms and automakers. On Thursday, after an initial surge when the ECB announced it lowered its key interest rates and expanded its bond-buying program, the gauge erased all of its increase when Draghi said he didn't anticipate further rate cuts. Germany's DAX Index, among the most hurt in this year's selloff, jumped the most since August on Friday.
"Yesterday's moves were far too extreme," said Teis Knuthsen, chief investment officer at Saxo Bank A/S's private-banking unit in Hellerup, Denmark. "Draghi made the mistake of essentially saying that the ECB was done with stimulus. At the end of the day, the ECB delivered more than expected and is pumping a lot of money into the system. A few years ago this would have marked the start of a significant rally, but now there seems to be a widespread fatigue with monetary policy."

With Friday's advances, European equities erased what was set to be their first weekly drop in four. The Stoxx 600 ended up 0.1 percent, posting its longest streak of weekly gains in almost a year. The gauge has rebounded 13 percent from February's low, led by gains in commodity producers and banks. It now trades at 14.9 times estimated earnings, still far below the 16.7 multiple reached last April.
Stock investors have had to deal with increased volatility this year, and Thursday's market reaction exemplifies a trend that's been intensifying in recent months: central banks are increasingly powerless when it comes to calming markets. The Euro Stoxx 50 Index of the biggest euro-area companies moved more than 5 percent intraday, its wildest swings since August, and the most on an ECB day since 2011. A measure of volatility expectations increased for four straight days, its longest streak this year. On Friday, it tumbled 14 percent, the most since August.
Equities from almost all of western Europe advanced, with benchmark indexes from Italy and Spain rallying more than 3.5 percent. Lenders from those countries were among the biggest gainers in the Stoxx 600. More than 560 of the companies on the gauge advanced.
Germany's DAX jumped 3.5 percent, with ThyssenKrupp AG surging 8.5 percent after Morgan Stanley gave the equivalent of a buy rating on the stock. Deutsche Bank AG jumped 7.4 percent after people with knowledge of the matter said it's in talks to sell the last batch of a portfolio of complex financial instruments.
Among other companies moving on corporate news, Brunello Cucinelli SpA climbed 7.1 percent as the luxury fashion company predicted double-digit growth for this year. Old Mutual Plc slipped 1.8 percent after saying it will separate into four units.
Before it's here, it's on the Bloomberg Terminal.
LEARN MORE