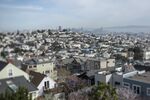 When John Williams spoke about employment last month, the San Francisco Fed president proclaimed the return of "groovy times." He sees joblessness in the U.S. coming down to about 4.5 percent this year in a sign that the labor market has fully recovered from the Great Recession and its aftermath.
He has reason to be optimistic. In his district, payrolls have increased more than 5 percent in the past two years, about 1 percentage point more than at the national level, according to data compiled by the Dallas Fed. San Francisco is also the Fed's biggest district — home to almost one in five jobs in the U.S. at the end of 2015.
Minneapolis's tally is less optimistic. In the smallest district by number of jobs, employment rose just over 2 percent between January 2014 and December last year.

Does that have an impact on the voting behavior of Fed officials and monetary policy? After all, Chair Janet Yellen will gather her Federal Open Market Committee next week.
Regional dynamics "seem to matter less," according to Raymond Stone, managing director at Stone & McCarthy Research Associates in Princeton, New Jersey.
"But if you're John Williams, you're sitting in San Francisco and employment is growing quickly, you may be more optimistic generally about the nation than someone somewhere else," he said.
Neel Kashkari, the president of the Minneapolis Fed, hasn't elaborated on his economic outlook recently except for noting that he feels "pretty good about how the U.S. is positioned." His predecessor Narayana Kocherlakota, who stepped down on Dec. 31, was among the Fed's most dovish policy makers. He dissented several times while a voting member of the FOMC in 2014, in favor of easier policy.

The data seem to suggest that a bigger district offers more diversity to hedge labor-market trends. San Francisco's sprawling region includes Alaska, Arizona, California, Hawaii, Idaho, Nevada, Oregon, Utah, and Washington, while Minneapolis covers Minnesota, Montana, North and South Dakota, northwestern Wisconsin and the Upper Peninsula of Michigan.
While employment growth in the Minneapolis region has been skewed by a drop in commodity prices and decreased drilling activity, San Francisco has benefited from an industry mix that largely mirrors that of the rest of the nation, with a considerably larger share of IT workers. Some 1.5 million jobs were created there in the past two years, about 28 percent of the U.S. total.
Before it's here, it's on the Bloomberg Terminal.
LEARN MORE