Abe Adviser Honda to Be Dispatched to Switzerland
by and
Removes incorrect reference to Honda's university post

Etsuro Honda helped persuade Abe to delay 2015 sales-tax rise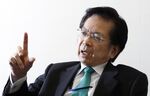 Etsuro Honda, one of the most influential advisers in an Abe administration that has eroded the power of Japan's legendary bureaucracy, has been named as ambassador to Switzerland, in an unusual move.
Honda, 61, played a pivotal role in persuading Prime Minister Shinzo Abe to delay a 2015 sales-tax rise, and has been prominent lobbying against the current 2017 plan for the bump. The pro-reflation former civil servant who met Abe more than three decades ago also counseled him on choosing new leadership at the Bank of Japan, which is now pursuing record stimulus.
While in the U.S., ambassadorships are often political appointments, Japan's top overseas diplomats overwhelmingly come from the ranks of the Foreign Ministry, as is the case with the outgoing emissary to Bern. The news Friday spurred speculation Honda was being moved to reduce his influence, which has contributed to diminishing the sway of the Finance Ministry.
"Mr. Honda will continue to provide advice to the prime minister as he has up until now, combining his roles," Chief Cabinet Secretary Yoshihide Suga told reporters, when asked whether Honda's absence would allow the Finance Ministry to exercise more sway over the premier.
Japan's Finance Ministry has long pressed lawmakers to increase the sales tax as a way of reining in the nation's government debt burden, which is more than double gross domestic product. While Honda had served at the ministry himself as a civil servant, he ended up as a black sheep who advocated more aggressive policies -- fiscal and monetary alike -- to revive an economy stunted by years of deflation.
Honda was one of a group of advisers who persuaded Abe of the benefits of ultra-easy monetary policy while he was in opposition. He toured the country in 2012 making speeches about the benefits of reflation. This, Honda said, impressed Abe enough to request him to explain his ideas -- and to make him a special adviser, tasked with collecting information to assess potential BOJ governor candidates.
Historic Revamp
After Abe took office, an historic revamp of Japan's policy-making structure -- involving putting the prime minister's office in charge of choosing top bureaucrats -- gave Honda the opportunity for wielding influence.
"Honda has been a major part of an unprecedented consolidation of power in the prime minister's office across the policy spectrum," said Jeff Kingston, director of Asian studies at Temple University's Japan campus.
The outspoken Honda called for a sales tax increase set for April 2017 to be postponed after the last hike in 2014 tipped the economy into a recession. He also said the Bank of Japan should take further action to shore up the economy, but would probably not act at its meeting next week. Last month, Honda called for a stimulus package of about 5 trillion yen ($44 billion) to bolster the nation's stagnant consumption.
After Abe began his second stint in office in December 2012, Honda took up his economic advisory post with a work space next to Abe in the prime minister's official residence. Under the influence of Honda, as well as retired Yale University professor Koichi Hamada, Kikuo Iwata and Yoichi Takahashi, Abe picked reflationist Haruhiko Kuroda as Bank of Japan Governor in 2013, bringing about a sea change in Japan's monetary policy.
While unprecedented monetary easing led to a weaker yen, benefiting Japan's exporters, and helped fuel a 58 percent rise in the Topix share index since Abe returned to power, media polls show most people in Japan haven't felt positive effects from the changes.
Honda has known Abe since they met at a wedding reception more than 30 years ago. The two are also golf buddies, and Honda has a second home near Abe's in Yamanashi prefecture, adjacent to Tokyo.
Before it's here, it's on the Bloomberg Terminal.
LEARN MORE