Yahoo Adds Directors as Proxy Fight, Potential Sale Loom
by and
Catherine Friedman, Eric Brandt fill seats of Schwab, Levchin

Both have had experience in helping with company transactions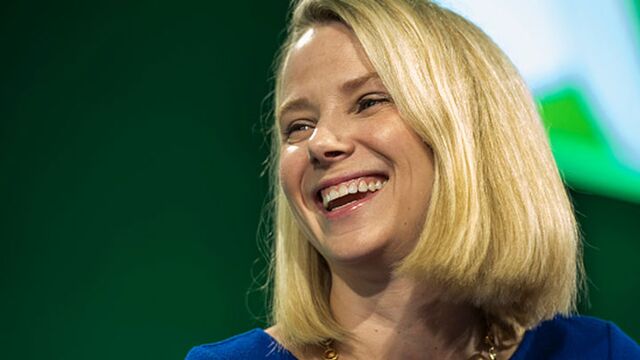 Yahoo! Inc. added two new independent directors who have experience in helping sell companies, bulking up the board as the struggling Web portal faces a potential proxy battle and considers unloading its Internet businesses.
Eric Brandt, former chief financial officer of Broadcom Corp., joins Yahoo after helping guide the chipmaker in its sale to Avago Technologies for $37 billion. The company also appointed Catherine Friedman, previously a managing director at Morgan Stanley, where she served as strategic and transaction adviser, Yahoo said Thursday in a statement. Yahoo last month said it was pursuing strategic options, a move that could result in a sale of the core Web operations.
Activist investor Starboard Value LP, which has been critical of efforts by Yahoo Chief Executive Officer Marissa Mayer to restore growth and boost shareholder returns, has taken initial steps for a potential proxy fight that could recast the board with new directors, people familiar with the matter said last month. With its latest additions, Yahoo may be seeking to reassure investors that it has outside voices on the board and bolster the case for keeping its own directors in place as it weighs its future.
"They could be gearing up for a proxy contest, or it may be a defensive move as they seek to negotiate with Starboard -- to strengthen their hand," said Victor Anthony, an analyst at Axiom Capital Management. "It's somewhat perplexing that they would do this now."
Yahoo shares fell 4.1 percent to $32.15 at 1 p.m. in New York. They have declined 25 percent in the past year.
Investor Unrest
Unrest has been rising among Yahoo investors after years of stagnant growth, product changes and executive departures. Mayer, who was named CEO in 2012, has been working since then to turn around the Sunnyvale, California-based company, which served as a marquee for Internet users flocking online for the first time in the late 1990s.
Mayer has struggled to jump-start sales growth, and earlier plans to separate Yahoo from a $27 billion stake in Alibaba Group Holding Ltd. were dogged by questions about the transaction's tax implications. In recent months, Yahoo scrapped the long-planned spinoff, unveiled a plan to pursue a reverse spin of its core assets -- then said it would explore bids for its business.
"As the company has underperformed significantly and experienced executive turnover, as it's about to make some very serious decisions about their future, it's been increasingly important to a lot of shareholders that there be greater independence on this board -- such that public shareholders can have greater confidence that the board would in fact be acting on behalf of the public shareholders," said Paul Sweeney, an analyst at Bloomberg Intelligence.
The new directors bring the board back to nine members, replacing Charles Schwab, the eponymous founder of the discount brokerage, and Max Levchin, CEO of lending startup Affirm, who both resigned late last year.
Potential Suitors
In the days after Yahoo said it would consider a sale, some would-be buyers said they were getting the cold shoulder and came away with the impression that Mayer and the board weren't aligned in backing a possible deal, people familiar with the matter have said. Last week, Chief Financial Officer Ken Goldman said management was in sync.
"We're absolutely aligned," he said "I want to make it very clear: between management, Marissa, myself, the rest of the management, her management team, and the committee and the board, we're absolutely all aligned."
Starboard, which owns less than 1 percent of Yahoo's shares and has been the most outspoken activist shareholder, has urged the company to overhaul its top ranks. Starboard said in January that investors have "no confidence" that management or the board would be able to improve the company's performance. The window for nominating shareholders opened in late February and will close later this month.
Brandt joined Broadcom when it was working to recover from the personal scandals caused by its founder, Henry Nicholas. Brandt cut divisions and helped restore profitability with a more disciplined approach to spending on research and development, and was part of the process of selling the chipmaker.
Friedman held numerous positions during her 23-year investment banking career with Morgan Stanley, including managing director and head of West Coast health care.
"They need to go above and beyond in conveying and projecting independence," said Brian Wieser, an analyst at Pivotal Research Group. "A major issue the board has to be mindful of is whether or not they are perceived to be active in shareholders' interest."
Before it's here, it's on the Bloomberg Terminal.
LEARN MORE