Valeant Withheld Documents in Price Probe, Congress Says
by
House oversight committee seeks reason for missing information

Drugmaker has provided only `nonprivileged' documents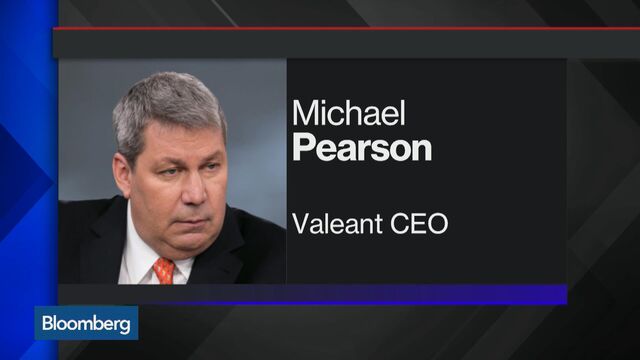 Valeant Pharmaceuticals International Inc. hasn't given members of Congress all the documents they have sought as part of a probe into the company's drug pricing practices, and lawmakers want to know why.
Leaders of the House Committee on Oversight and Government Reform wrote to Valeant Chief Executive Officer Michael Pearson on Thursday, asking him to explain why the drugmaker hasn't turned over the information originally requested in August, according to a statement from Committee Chairman Jason Chaffetz, a Republican from Utah, and the ranking Democrat on the committee, Representative Elijah Cummings of Maryland.
The committee held a hearing last month on price increases throughout the pharmaceutical industry, and grilled Valeant as well as controversial former drug executive Martin Shkreli.
Valeant has provided documents it considers "nonprivileged," according to the lawmakers' statement. Chaffetz and Cummings asked Pearson to provide a list describing each document the company has withheld and the reason for not turning it over to the committee.
"Based on the information you provide in response to this request, the committee will be able to evaluate the basis for your decision to withhold these documents and determine whether, and to what extent, such documents should be provided," the lawmakers wrote.
Valeant has already provided the committee with 78,000 pages of documents and is creating the list lawmakers requested, said Robert Kelner, a partner at Covington & Burling who represents the company.
"As is standard procedure for any company responding to a congressional investigation and engaged in litigation, we have declined to produce documents covered by the attorney-client privilege," Kelner said. "We have cooperated with the committee's review from the beginning and look forward to providing them with that log, pursuant to their request."
Valeant has also failed to provide transcribed interviews with executives and documents associated with its now-severed relationship with a mail-order pharmacy, according to Chaffetz and Cummings.
The shares fell less than 1 percent to close at $66.15 in New York.
Before it's here, it's on the Bloomberg Terminal.
LEARN MORE