U.K. Labour Leader Corbyn Distances Himself From Supporter Group
by
Speakers at Edinburgh event expressed backing for SNP policies

Corbyn: Supporters' group a `wholly separate organization'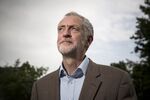 U.K. Labour Party leader Jeremy Corbyn distanced himself from the "Jeremy Corbyn for Prime Minister" group that supports him after speakers at one of its events were reported to have advocated voting for a rival party and to have joked about a member of Parliament's mental-health problems.
The "JC4PM" rally in Edinburgh on Wednesday evening featured appearances from stand-up comedians Mark Steel and Jeremy Hardy and the singer Charlotte Church. Steel described the Scottish National Party, which captured all but one of Labour's previously held seats in Scotland in last year's U.K. general election, as "brilliant," according to Buzzfeed News. Hardy said he'd probably vote for independence, as espoused by the SNP, if he lived in Scotland, and also made fun of the fact that Kevan Jones, a Labour lawmaker and critic of Corbyn, suffered from depression, Buzzfeed said.
"The JC4PM tour is a wholly separate organization," Corbyn's office said in a statement Thursday. "Jeremy Corbyn has no involvement in its activities. Jeremy has consistently called for an end to the stigma which is often attached to mental health. And of course in Scotland the best option for working people is to vote Labour."
The event shows the difficulty Corbyn is having in managing his supporters, many of whom have joined Labour from other socialist groups and who ignore the usual rules of political discipline. Support for the nationalists at a pro-Corbyn event risks a further erosion of support for the Scottish Labour Party, once the dominant political force in the country, ahead of May 5 elections to the Scottish Parliament, with polls suggesting the party will again lose seats to the SNP.
Corbyn's election has energized some party activists while horrifying many Labour members of Parliament, who are increasingly in open revolt against him over issues including Britain's nuclear weapons and bombing Islamic State in Syria. He is able to continue in office partly because of his support from rank-and-file party members, something the JC4PM events are aimed at continuing. The party's Treasury spokesman, John McDonnell, is due to appear at one in London on Sunday.
Before it's here, it's on the Bloomberg Terminal.
LEARN MORE