markets
Mario Draghi's Wearing the Same Tie From One of His Biggest Days Ever
It's all about the tie.
By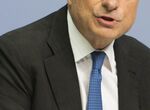 Anyone who saw Mario Draghi's attire this morning would've had a reason to guess that the European Central Bank's stimulus would exceed expectations.
#DraghiTieGuesses, first used by the Financial Times' Katie Martin nearly three years ago, has become somewhat of a whimsical prelude to ECB statements that will be followed by a press conference.
On Thursday, Draghi wore the exact same tie he did in July 2012 when he made a speech that affirmed the ECB's dedication to preserving the monetary union, as Algebris Investments' Alberto Gallo observed:

The ECB President's 2012 declaration that monetary policymakers would do "whatever it takes" to save the euro proved to be a game-changer, with spreads on sovereign debt issued by core and peripheral eurozone nations narrowing thereafter.
Perhaps Draghi's ensemble was a subtle nod as to the significance of Thursday's policy changes. As The Telegraph's Economics Correspondent Peter Spence reminds us, the central bank chief is aware of the tie-guessing game.
Today, the central bank cut interest rates, increased the amount of its monthly bond purchases and the assets eligible for this program, and announced measures aimed at decreasing funding costs for banks.
The euro tumbled and equities rose in the minutes following these revelations, though the currency has since swung back into positive territory against the U.S. dollar on the day.
The firing of Draghi's bazooka comes amid a slow-growth recovery in which inflation has remained far below the central bank's target for an extended period of time.
Before it's here, it's on the Bloomberg Terminal.
LEARN MORE