Tesla Sued by Virginia Car Dealers Over New Store Plan
by
Tesla has one store in northern Virginia suburb Tysons Corner

Company vows to fight for customers and consumer freedom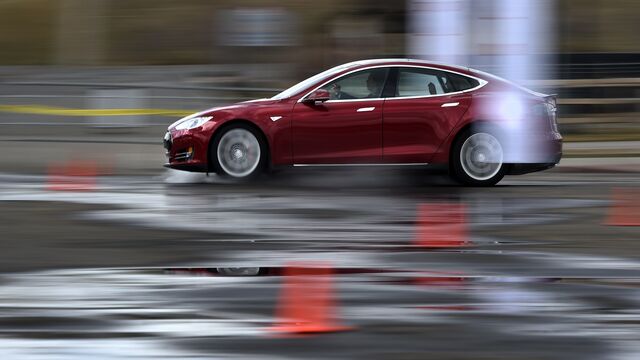 The Virginia Automobile Dealers Association sued Tesla Motors Inc. and state officials in a challenge to the electric-car maker's request to open a second store in Virginia.
Tesla operates one store in Tysons Corner, an affluent Washington suburb. The Palo Alto, California-based company, eyeing expansion along the dense I-95 corridor, asked the state Motor Vehicles Department to consider allowing another one, in Richmond, about 100 miles (160 kilometers) south. A hearing is scheduled for this month.
Virginia law allows carmakers to own dealerships if they can show that there is no other qualified independent dealer that would serve the public interest. Tesla went through a similar process four years ago, and a 2013 agreement by the state, the company and the dealers' group gave Tesla permission to open its Tysons Corner outlet.
The dealers alleged Wednesday in court papers that Tesla and Richard Holcomb, the Virginia motor vehicles commissioner, are violating the 2013 accord because it allows only one Tesla store. They asked the court to enforce the agreement and asked the state to put Tesla's hearing, scheduled for March 31, on hold.
Brandy Brubaker, a spokesman for the Virginia DMV, said in an e-mail that it would be inappropriate to talk about pending litigation.
'Without Merit'
"VADA's lawsuit, which seeks to stop Tesla from even going through the application process, is entirely without merit," Tesla said in a statement, referring to the dealers' association. "We will vigorously defend against VADA's lawsuit and continue to fight for our customers and consumer freedom in Virginia."
The case is Virginia Automobile Dealers Association v. Tesla Motors Inc., 2016-03672, Fairfax County Circuit Court (Fairfax).
Related ticker:
TSLA US (Tesla Motors Inc.)
Before it's here, it's on the Bloomberg Terminal.
LEARN MORE