markets
Gordhan Hopeful of Avoiding Moody's South African Downgrade
By
Finance minister meeting U.K. and U.S. investors this week

Moody's placed economy on review for credit-rating cut
South African Finance Minister Pravin Gordhan said he's hopeful officials can convince Moody's Investors Service that structural reforms and other actions to shore up finances are enough to avoid a credit-rating downgrade.
Concerns include "whether we can actually support the fiscal framework that we announced in our budget -- to have deficits declining to 2.4 percent in the outer years of our three-year cycle -- and whether we can get the right kind of partnership between ourselves and the private sector," he said in an interview with Bloomberg TV Thursday in New York. "We've been doing some work which does provide some reassurance."
Gordhan, 66, is meeting with investors in the U.K. and the U.S. this week as the nation risks losing its investment-grade status. Growth in Africa's most-industrialized economy is forecast to slow to less than 1 percent this year, knocked by the worst drought in more than a century, falling commodity prices and weak demand from its biggest export market, China.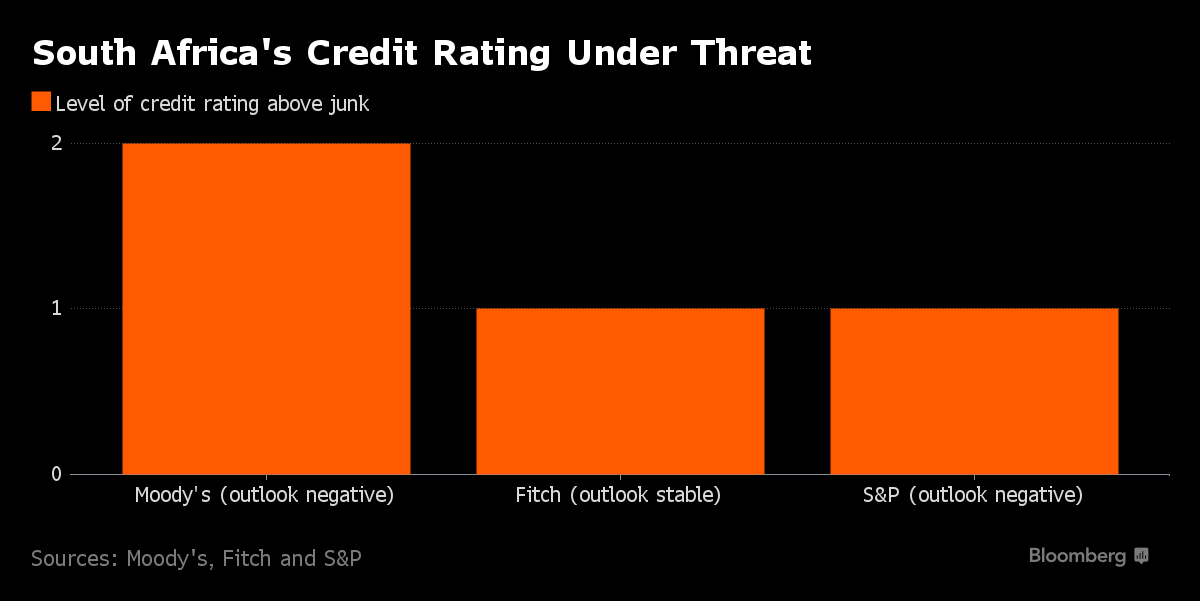 Investor confidence hasn't recovered since President Jacob Zuma fired his former finance minister, Nhlanhla Nene, in December and replaced him with a little-known lawmaker, causing the rand and bonds to plunge. The market backlash and lobbying by business leaders and politicians forced Zuma to backtrack four days later, leading him to reappoint Gordhan to a position he had held from 2009 to 2014.
South Africa's currency fell on Feb. 26 by the most against the dollar on a closing basis since 2011, as the Business Day newspaper reported that Gordhan had threatened to resign if Tom Moyane, the tax commissioner, isn't dismissed and the minister later warned of a campaign to undermine him.
He is seeking to reestablish confidence in the country's political institutions "by doing the job I did between 2009 and 2014 with a very good team at the National Treasury, with very high levels of credibility both within South Africa and across the globe," Gordhan said. He will "continue to reinforce the message that the country's finances are in good hands," he said.
Budget Cuts
Gordhan cut planned spending and targeted higher taxes at the wealthy in a budget last month that sought to appease ratings companies concerned that debt is rising too fast. He pledged to narrow the budget deficit to 2.4 percent of gross domestic product in three years' time from a projected shortfall of 3.9 percent in the year ending March 31. Gross debt will exceed 50 percent of GDP this year for the first time in at least 25 years.
The finance minister's U.K. and U.S. visits were billed as a "non-deal roadshow." Gordhan said in the Bloomberg interview Thursday that the country is in the bond market "for a billion dollars, at some stage, when the market is satisfying our needs and if there is an appropriate level of stability."
Standard & Poor's has a negative outlook on the nation's BBB- rating, which is one level above junk. Moody's Investors Service said on March 8 it's putting South Africa's Baa2 assessment on review for a downgrade because of the weaker growth and fiscal outlook. A one-step cut by Moody's will move its evaluation on par with that of Fitch Ratings Ltd. and S&P.
South Africa is reinforcing the message that the country's finances "are in good hands, that we intend to be prudent, that we will demonstrate in practice what we say in words, i.e. fiscal consolidation, and that we will try and build what we are doing now -- the right kind of consensus to get all of the role players to focus on growth as the key issue," Gordhan said Thursday. "We've decided, as a country and as a government, that doing the same old things isn't going to get us where we need to get."
The rand strengthened 1.3 percent to 15.2183 per dollar at 9:54 a.m. in Johannesburg on Friday. The yield on rand-denominated government bonds due December 2016 fell seven basis points to 9.13 percent.
— With assistance by Rene Vollgraaff, Joe Weisenthal, Scarlet Fu, and Nasreen Seria
(
Updates with comments on confidence in sixth paragraph.
)
Before it's here, it's on the Bloomberg Terminal.
LEARN MORE