NASA's Bug Repellent Aims to Save Airlines Millions in Fuel Cost
by
Wings to have Teflon-like coating so insects won't stick

Scientists say project may reduce aircraft drag, cut fuel use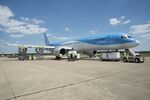 The next frontier of aircraft design is taming bug splats.
NASA scientists are patenting substances that act like non-stick cookware, blocking dead insects from adhering to surfaces so air flows more smoothly over the wings and fuselage.
The new coatings could solve one of aviation's oldest problems: how to take advantage of a super-smooth flow of air called "laminar flow" that dramatically reduces drag and improves fuel efficiency. Up to now, this has been almost impossible to achieve in the real world because even the smallest debris -- including insect carcasses -- triggers swirling air turbulence that roils the airstream.
"I think we're definitely on the right track," Fay Collier, project manager of NASA's Environmentally Responsible Aviation Project, said in an interview. "This has been a tremendous step forward."
Out of dozens of materials tested first in wind tunnels and then last year on the wings of a Boeing Co. 757, two were considered successful enough that NASA is preparing to make them available for licensing by private companies. The best material so far has only blocked about 40 percent of bug splats, and scientists would prefer a higher success rate, leaving more work to be done, Collier said.
Huge Payoff
Still, as pressure grows to make airliners more fuel efficient and lessen their impact on the environment, eliminating insect contamination is an area that holds a potentially huge payoff for future designs. Aircraft emit 3 percent of greenhouse gases in the U.S., according to the Environmental Protection Agency, and that share is forecast to grow as the government imposes stricter limits on other sources such as automobiles.
In theory, creating aircraft bodies and wings with mirror-like surfaces that can maintain smooth airflow would produce big gains, said Mark Drela, a professor at the Massachusetts Institute of Technology who specializes in aerodynamics.
"On a jetliner, it's enormous," Drela said. "It's a factor of 10. It's colossal. It's like taking your car from 20 miles per gallon to 200."
When air flows across a typical airliner's wing, it is turbulent, like tiny crashing waves. If the flow remains smooth, it forms layers of different speeds with minimal drag between them, allowing a marked improvement in efficiency.
Seeking Efficiency
Outside of a few specialized aircraft such as gliders, getting such efficiency has proven elusive in the real world, especially for the largest planes. Even the ripple over a rivet or a crushed fruit fly destroys the benefit. As a result, almost no surfaces on airliners are designed to take advantage of smooth laminar airflow, Drela said.
If the anti-bug solution works and can help obtain smoother airflow on even a small portion of a newly designed wing, that could lead to noticeable gains, he said.
NASA forecasts that debugging aircraft -- combined with new designs to take advantage of the smoother airflow -- could improve fuel efficiency by more than 1 percent, said Mia Siochi, a senior materials engineer at NASA's Langley Research Center in Hampton, Virginia. Siochi helped develop the anti-bug coatings.
One percent may not seem like much, but applied to the annual U.S. airline fuel consumption it adds up. According to the the U.S. Bureau of Transportation Statistics, airlines used 16.7 billion gallons of fuel in 2015. Cutting that by 1 percent, or 167 million gallons, would result in a savings of $308 million at average fuel prices last year.
Pits, Ridges
The insect research, which cost about $10 million, was part of a $400 million program over the past six years to develop environmental enhancements for aircraft. Some of that may be recouped through royalties if a coating works.

The NASA team initially tried experimenting with different chemicals to repel insect remains, which coagulate and become sticky, according to Siochi. But they didn't work well alone so she turned to nature for inspiration.
The coatings that worked best were designed with microscopic pits and ridges similar to the lotus leaf, which naturally repels water, she said.
A bug-resistant surface would probably work best if it's designed into the aircraft from the beginning rather than adding it on existing planes, Collier said. As with all new technologies in the competitive aircraft market, it will have to prove its benefits outweigh its costs, he said.
Climate Change
Boeing, which participated in the tests with NASA, has begun designing aircraft surfaces to take advantage of laminar flow. On the company's newest model, the 787, the curved surfaces covering engines, known as nacelles, have the smoother air stream for the first few feet, saving on fuel, spokeswoman Mary Kelly said in an e-mail. Sections of the tail fins on the 787-9, a lengthened version of the plane, also benefit from laminar flow, according to Kelly.
Environmental groups say it's critical for technologies like the anti-insect coating to be put into service as soon as possible if the world is to stave off extreme temperature increases due to man-made climate change.
"It's one of the fastest growing emission sources, certainly the fastest in the transportation sector," Sarah Burt, staff attorney at the environmental group Earthjustice, said of aviation in an interview.
Currently there aren't any emissions restrictions on aircraft, unlike motor vehicles. The EPA last June declared that aircraft were a significant contributor to rising temperatures, which allows it to eventually set limits. The United Nations' International Civil Aviation Organization on Feb. 8 took a preliminary step toward adopting aviation emission rules, but those wouldn't kick in until 2020 at the earliest.
Development Costs
Improvements in aviation tend to come slower than elsewhere because it can take 30 years of use before airlines dump older, less efficient aircraft models. The risks and high costs of developing new aircraft have also tended to slow efficiency gains, according to John Hansman, another aeronautics and astronautics professor at MIT.
A few years ago, Hansman assigned students to use game theory to predict what Boeing and its European rival, Airbus Group SE, would do to replace their aging single-aisle models. Rather than attempting big gains through radical new designs, the study found it was in the companies' best interests to seek more modest improvements by tweaking existing models, he said.
NASA's Collier, who has worked on the problem for decades, said he hopes the work will make it easier for for aircraft designers to finally achieve the Holy Grail of laminar flow.
"Our job is to help mature some of these technologies where the risk is reduced to the point where it can be seriously considered," he said.
Before it's here, it's on the Bloomberg Terminal.
LEARN MORE