Five Ways to Work Out With the In Crowd
Spring's top five achingly trendy gym classes verge on elitist—but may deliver the workout you've been looking for.
By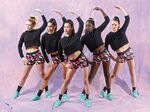 All classes are one hour.
For yoga masters: Y7 Studio
New York and Los Angeles
$25 per class; y7-studio.com
Free spirits who consider standard Vinyasa yoga too basic—including actors Zosia Mamet and Vanessa Hudgens and Sports Illustrated cover model Nina Agdal—find their Zen here. In windowless studios, lit by candles and heated to 90F, traditional poses are broken up by freestyle dancing to cranked-up hip-hop. 
For models, real and aspiring: ModelFit
New York and L.A.
$40; modelfit.com 
Other workouts promise to give you lithe supermodel limbs, but ModelFit is the one Miranda Kerr, Karlie Kloss, and other actual catwalkers do. Trainer Justin Gelband, who leads his classes through low-impact, slow, fat-burning moves such as leg lifts and lunges, boasts that he's had more clients walk in the Victoria's Secret Fashion Show than any other trainer. 
For ruthless minimalists: S10
In New York only, but a Costa Rican retreat is scheduled for later this year
$50 per class; s10training.com
S10 stands for "sub-10"—as in, below 10 percent body fat, which is the mantra at this favorite of Alexander Wang's creative team and designer Waris Ahluwalia. Aggressive moves include "prowler pushes," in which one attempts to force a weight roughly the size and shape of a small car across the length of the sleek gym. If you're into the idea of high-impact valet service, get in line: S10 limits its class size to 8 and total membership to 100. 
For mean girls: Skinny Bitch Collective
New York, L.A., London, and Ibiza
From $40; thesbcollective.com
Anglo-celebs including pop singer Ellie Goulding and actor Suki Waterhouse turned America on to SBC by posting Instagram videos of themselves sweating through founder Russell Batemen's intense training circuits. His workouts often include squat-jump combos called burpees and upside-down mountain climbers—basically running in place in a handstand against a wall. Classes are offered on an invite-only basis (duh), though you can indicate your interest online and hope for the best.
For fashionistas: Pop Physique
New York, L.A., San Francisco, Baltimore, and Atlanta (coming soon)
From $20; popphysique.com
This ballet-inspired dancercise class—part workout, part fashion show—is beloved by colorful personalities such as Brie Larson, Mindy Kaling, and Parker Posey. Expect to see lots of '80s-style Day-Glo leotards and leg warmers while you lift, stretch, and pose to a thoroughly modern playlist of indie rock, hip-hop, and electronic dance music.
Before it's here, it's on the Bloomberg Terminal.
LEARN MORE